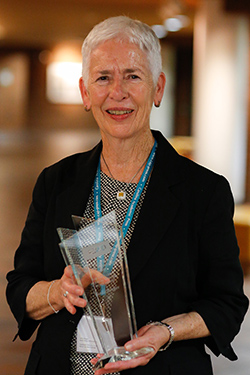 At the recent national biennial conference of the Association of Legal Writing Directors (ALWD), Professor Linda Berger received the Linda Berger Lifetime Achievement Award for Excellence in Legal Writing Scholarship. This award celebrates those who have had a significant impact in the field of legal writing through their scholarly efforts. The award will be presented every two years at ALWD's biennial conference.
In remarks given before Professor Berger was honored, ALWD President Wanda M. Temm stated "…her prolific work established legal writing within the legal academy as a true discipline with a doctrinal foundation on which to build its own body of scholarly literature. Moreover, she has been generous in her efforts to support other scholars in the field, leading presentations and workshops about legal writing scholarship, and helping new scholars find their voice. There is perhaps no other individual in our community who has had the same profound impact on the discipline of legal writing as our recipient."
Our sincerest congratulations to Professor Berger on this incredible honor.