Boyd Students Perform Well in Securities Dispute Resolution Triathlon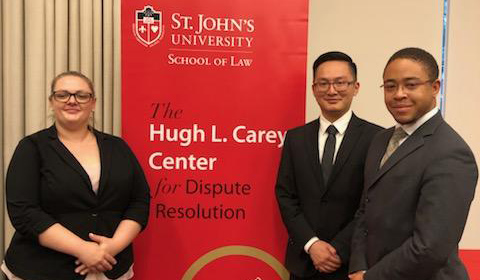 Brandon Cromer (3L), Jessica White (2L), and Jackson Wong (3L) made a strong showing in the eleventh annual Securities Dispute Resolution Triathlon hosted by Hugh L. Carey Center for Dispute Resolution at St. John's School of Law and the Financial Industry Regulatory Authority (FINRA). 
The demanding competition requires students to negotiate, mediate, and arbitrate a problem concerning securities rules and regulations and employment and privacy laws.   Experienced FINRA neutrals awarded third place in the mediation round to the Boyd team, and Boyd also bested its opponent in the arbitration round.