Wednesday, November 10, 2021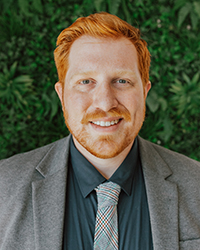 Austin grew up in northern Utah and completed his undergraduate education at Brigham Young University, where he earned a bachelor's degree in English (with a minor in political science).
After leaving BYU, Austin worked in marketing, primarily as a copywriter and brand manager. This led to multiple roles in the insurance industry, including working as an appeals writer on behalf of families whose children had been denied coverage for residential mental healthcare. It was in this position that Austin learned the value of combining data, research, and creativity to make meaningful arguments.
Prior to enrolling at the UNLV William S. Boyd School of Law, Austin helped publish analytical studies concerning employee benefits for NFP, an employee benefits brokerage and consultant firm. While at NFP, he also assisted a team of consultants who worked with large public-sector organizations to make data-based decisions regarding compensation and benefits issues.
This work largely sparked Austin's interest in dispute resolution and its potential to create long-term solutions. Specifically, that interest lies at the intersection between hard data and human-centered analysis, and the potential for problem-solving that evolves as the conditions that incite conflict change.
As a Saltman Center Communications Fellow, Austin hopes to raise the visibility of UNLV Boyd's alternative dispute resolution program, and to put a spotlight on the faculty, students, and supporters who have made the Saltman Center the nation's fifth-ranked dispute resolution program. Austin is excited to dust off his copywriting and social media marketing hats to showcase the Saltman Center's many accomplishments and share them with the greater UNLV Boyd and ADR communities. In addition to explaining the benefits of ADR, Austin's fellowship work will highlight all the resources the Saltman Center offers, such as hosting public events, welcoming guest speakers, and producing newsletters that celebrate student achievements and faculty scholarship.
A 2L student at the UNLV Boyd School of Law, Austin also works as a research assistant at the Wiener-Rodgers Law Library and as a staff editor for the UNLV Gaming Law Journal. His studies focus on labor and employment law, and he hopes to combine these interests with his alternative dispute resolution experience upon entering the legal profession.