Wednesday, November 10, 2021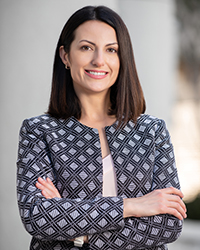 By Matt Jacob
Petya Pucci's passion for alternative dispute resolution (ADR) can be succinctly summed up through a quick review of her activism as a student at the UNLV William S. Boyd School of Law:
Pucci was a Student Fellow for the Saltman Center for Conflict Resolution; served on the board of the student-run Dispute Resolution Society; participated in a directed clinical practice with the Nevada Juvenile Dependency Mediation Program; arbitrated parking disputes through UNLV's Parking Arbitration Program; and conducted extensive research on mandatory arbitration of sexual harassment claims (the topic of her capstone paper).
Impressive, to say the least—especially when considering that Pucci arrived at UNLV Boyd Law not fully aware of the prominent role dispute resolution plays in today's legal setting.

"About halfway through my first semester, my Civil Procedure professor, Jean Sternlight, introduced a course topic that was conspicuously titled Alternative Dispute Resolution," says Pucci, a 2021 UNLV Boyd Law graduate who was born and raised in Bulgaria. "At the time, I had limited knowledge about ADR; it sounded intuitive, yet somewhat nebulous.
"Little did I know, that ADR class would set me off on a path to exploring a whole new aspect of the legal practice."
With exploration came tremendous inspiration and dedication, which ultimately led to Pucci receiving the second annual Chapin Book Award. Founded in 2020 by UNLV adjunct professor and longtime ADR advocate Patrick Chapin, the $1,000 book award is presented to a UNLV Boyd Law student whose commitment to dispute resolution is reflected in their high academic achievement and impactful ADR-related extracurricular endeavors.
We recently connected with Pucci to discuss what it meant to win the Chapin Book Award, why she was drawn to study dispute resolution, and the importance of giving back.
Who and/or what spurred your interest in dispute resolution?
The spark that ignited the fire was something Professor Sternlight said the first time she brought up ADR in our Civil Procedure class: "Perhaps you are sitting here thinking: 'I don't really know if I can do this whole litigation thing. I'm not an adversarial person. Can't we resolve our conflicts in a more civil and collaborative manner; have our own kumbaya moment, so to speak?' Well, I am happy to report that there is a way to do just that, and it's through an approach called ADR."
Just like that, I was hooked! Not only did Professor Sternlight's words deeply resonate with me, but they came to define my entire law school experience from that point forward.

Was that the moment when you realized that ADR was something that fit both your skills and personality/temperament?

Absolutely! Admittedly, the adversarial aspect of litigation does somewhat come in conflict with my peaceful, diplomatic nature. That is not to say that I don't appreciate litigation; to the contrary, litigation can and does resolve disputes. And I understand very well the sweet feeling of victory after "winning" a lawsuit.
However, while winning may be the end goal for attorneys, it's only half the battle for everyone involved; the other half involves living with the outcome for the rest of your life. And in some cases, the courts just aren't as well-equipped to craft such long-term solutions. ADR, on the other hand, has various tools that give disputants a say in how their conflict gets resolved, which helps ensure that the outcome is not just desirable, but also sustainable.

To be clear, I don't believe in a binary world where litigation is the alternative to ADR and vice versa. I consider both to be different tools available to parties who need help with resolving their issues. Personally, I prefer to be familiar with each of these tools and capable of deploying them at various stages of the dispute.

How did you learn you had won the Chapin Book Award?

Professor Lydia Nussbaum, who is the director of the Saltman Center for Conflict Resolution, sent me a formal letter that she and Professor Sternlight authored. In the letter, they described all the ways I had demonstrated my commitment to dispute resolution throughout my time at the UNLV Boyd School of Law.
I was so moved that I was in tears by the time I finished reading. Notwithstanding my initial emotions, I was absolutely elated to receive the Chapin Book Award, which was the culmination of more than two years of extensive work in the dispute resolution field.
How does winning the award shape your thoughts about giving back after you've established a successful career?
Since enrolling at UNLV Boyd, I have been continuously inspired to pay it forward by. Professor Chapin, in particular, has always embodied the nature of our giving community. While his generosity is unmatched, subsidizing this award (as well as the Chapin Book Award for the Workplace Law Program) is hardly the only way he gives back.
I cannot begin to count how often he has graciously provided me with resources, recommendations, and career advice—and I'm not alone. During my 1L year, for example, he invited me and a few other students to observe a private arbitration at his office. After the session concluded, he spent at least another hour answering our questions and inviting our opinions on some of the issues. The benefit of this experience was truly immeasurable.
As a recent UNLV Boyd graduate, and a former student of (and now a colleague to) Professor Chapin, I am eager to join our uniquely giving community and help build up the next generation of lawyers. Indeed, I recently took a small step in that direction by donating my entire collection of casebooks and treatises to an aspiring law student—and a fellow immigrant—who I am confident will soon officially join our ranks.