Friday, November 15, 2019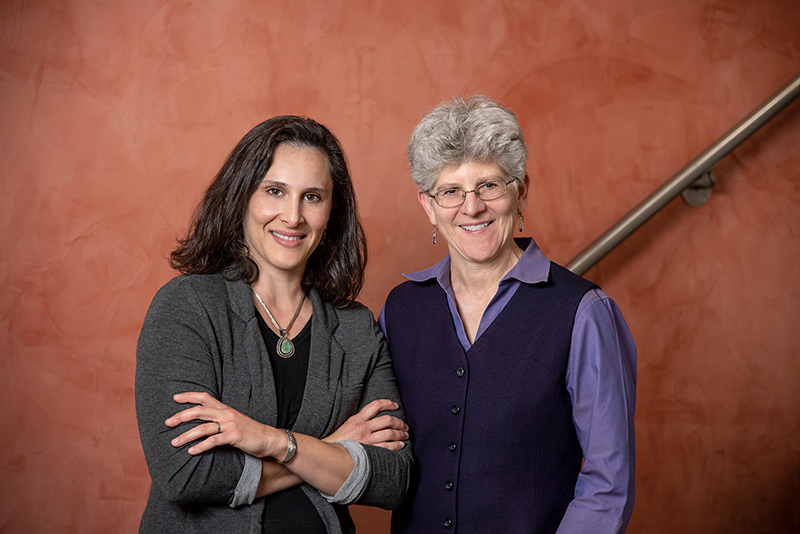 For the past 16 years, the Saltman Center for Conflict Resolution at the UNLV William S. Boyd School of Law has championed the advantages of alternative dispute resolution through scholarship, teaching, and public service. And from the very beginning, the center's driving force has been Founding Director—and Michael and Sonja Saltman Professor of Law—Jean Sternlight.
With Sternlight at the wheel, the Saltman Center has simultaneously experienced tremendous growth—at a time when lawyering has become more about settling differences outside of the courtroom—and gained immense national respect. So much so that this year, U.S. News & World Report ranked the Saltman Center fifth on its annual list of dispute resolution programs.
It's a milestone worth celebrating, which Sternlight did … by deciding to hand over the Saltman Center's wheel to her co-pilot and fellow Boyd Law Professor Lydia Nussbaum. As the Saltman Center's new director, Nussbaum's chief task is rather simple—in theory, at least: Sustain her predecessor's vision by making sure the Saltman Center remains a trusted resource for all who have an interest in and/or can benefit from alternative dispute resolution (ADR).
"I feel like someone has given me the keys to a very fancy sports car, and I'm just trying to make sure I don't race over speed bumps or scrape the curb when I'm parallel parking," says Nussbaum, who took over for Sternlight in July after serving as the Saltman Center's Associate Director since arriving at Boyd in 2013. "Really, my main objective is to continue our positive momentum."
While ADR practices such as negotiation, mediation, and arbitration have been around for decades, they became increasingly popular around the time the Saltman Center was founded in 2003. Recognizing the trend, Sternlight developed a program that provided Boyd students with critical institutional knowledge about dispute resolution, while also enlightening the community.
"My primary goals were to educate our students effectively regarding the broad range of conflict resolution tools and to host events that would educate not only our students but also broader communities about how conflict resolution can make this world a better place," she says. "With huge help from donors Michael and Sonja Saltman, multiple law school deans, and enthusiastic law faculty, I'm very proud of our work on both fronts."
Now it's up to Nussbaum to build on that work. One way she intends to do that is to continue fostering a strong curriculum that exposes students to the idea that lawyers, as much as anything, are problem solvers. "That means offering lots of classes and opportunities to develop skills, but also to think creatively about problem-solving," she says. "It also means trying to bridge the gap between traditionalist law school curriculum and the practical skills students will need when they go out and practice law."
Another Saltman Center tradition that will prevail under Nussbaum's leadership is regularly welcoming guest speakers for community lectures on relevant ADR topics. One such lecture, titled "Decriminalizing Domestic Violence," will be presented February 27 by Leigh Goodmark, a professor at the University of Maryland's King Carey School of Law. A week later on March 5, the annual Chris Beecroft Jr. Lecture will feature University of Pittsburgh School of Law Professor Pat Chew, who will address the lack of diversity among arbitrators, an issue that gained national prominence last year in a case involving rap artist Jay-Z.
Nussbaum—who also serves as Director of the law school's Mediation Clinic—certainly has added a lot to her plate by taking over the Saltman Center. But she has at least one fan who has zero doubt she's up to the task.
"I'm absolutely thrilled that Lydia has taken over the position," Sternlight says. "Her strong knowledge of the [ADR] field, her talents as a communicator, her enthusiasm, and her people skills have already strengthened our program immeasurably both within and outside of Nevada. I can't wait to see where her new ideas and energy take us."
The good news for Nussbaum? Sternlight is still a full-time professor who will remain involved with the Saltman Center, meaning Nussbaum won't have far to turn if she needs some advice. "I'll make sure Jean's sitting in the passenger seat with the GPS, just in case I need directions on where to go."