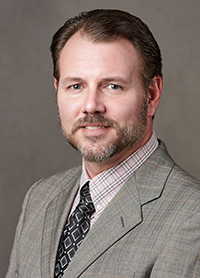 Research Librarian & Assistant Professor
Email:
Phone:
702-895-2409
Jim Rich is a Research Librarian and Assistant Professor at the Wiener-Rogers Law Library at the William S. Boyd School of Law. He provides research assistance to law faculty and assists library patrons with legal reference services.
Jim is currently pursuing a Master's degree in library and information science at the University of Missouri. From 2015 to 2018, he was a student at the Boyd School of Law, graduating cum laude with dual concentrations in Workplace Law and Dispute Resolution. For five academic terms during law school, Jim worked as a library research assistant.
Jim holds a Bachelor of Arts cum laude from Villanova University in Pennsylvania. From 1993 to 2005, he served as an officer in the U.S. Marine Corps and Marine Corps Reserve and from 2005 to 2015 as a public affairs officer with the U.S. Department of Veterans Affairs. He is the proud father of a daughter in grade school and is a member of the American Library Association and the American Association of Law Libraries.