"They're our neighbors, friends, and the familiar faces at the grocery store. They are Nevadans." — Gov. Brian Sandoval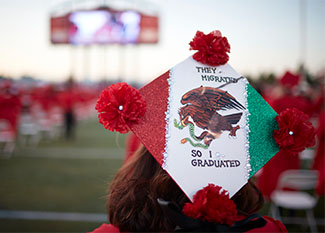 The Clinic offers FREE OF CHARGE legal advice and representation to UNLV and CSN students, staff, and their family members. Services are available as resources allow.
The project is supported by grants from the College of Southern Nevada and UNLV, and builds on the Immigration Clinic's tradition of informally helping members of the university community. The project combines outreach to the university community, direct legal services, and problem-solving to overcome common problems facing immigrant students and their families.
Fill out our intake form to request help.
Meet Mariana Rodriguez — UNLV Student, Engineer, Dreamer. She's also our graphic designer.
The designer of the Immigration Clinic's logo is a UNLV mechanical engineering student, Mariana Rodriguez. She was born in Zacatecas, Mexico, and raised in Nevada. When she applied to college she was initially asked to pay higher fees as an international student, even though she's lived in Las Vegas since she was five. It's because of students like her that the clinic launched our university legal services project. Click to listen to her story.