When
Thursday, February 4, 2016 -
Where
Thomas and Mack Moot Court
To register, please click here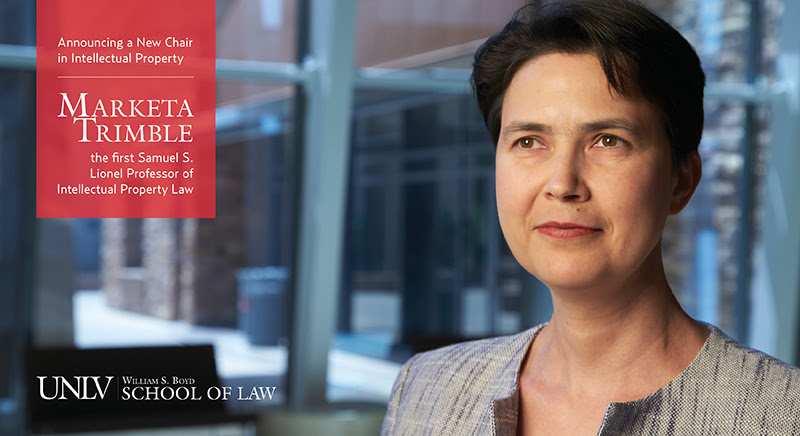 Marketa Trimble Becomes the Inaugural Samuel S. Lionel Professor of Intellectual Property Law

The UNLV William S. Boyd School of Law is pleased to announce that Professor Marketa Trimble has been named the inaugural Samuel S. Lionel Professor of Intellectual Property Law. An investiture ceremony marking the official award of the new professorship will take place:
About Samuel S. Lionel
Samuel S. Lionel is a director at Fennemore Craig, a business-focused law firm. He is a legendary litigator and founded the law firm of Lionel Sawyer & Collins. For more than six decades, he has served as a mentor to lawyers, law professors, and law students and has been an instrumental leader of the Nevada bar.
About Marketa Trimble
After graduating from law school, Professor Trimble worked in the government of the Czech Republic, obtained two additional degrees in the Law School of Charles University in Prague, and then earned master's and doctoral degrees in juridical science from Stanford Law School. Professor Trimble's comparative, doctrinal, and empirical work draws on her extensive research experience and governmental expertise and centers on international intellectual property law and transnational disputes over intellectual property. She is the co-author (with Paul Goldstein) of the influential casebook International Intellectual Property Law as well as the author of Global Patents: Limits of Transnational Enforcement.
About Intellectual Property at UNLV
The Lionel Professorship further supports UNLV's strengths in the field of intellectual property. Professor Mary LaFrance, IGT Professor of Intellectual Property Law at UNLV since 1999, is the author of texts on copyright, trademark, intellectual property, global copyright, and most recently, Entertainment Law on a Global Stage. One of the first professors in the country to engage in the study of entertainment law, Professor LaFrance is known for her work in comparative, transnational, and international intellectual property as well as taxation of intellectual property.
To register, please click here
A special thank you to our event sponsor, Fennemore Craig.

Fennemore Craig is a full service Mountain West business law firm with nearly 200 attorneys with offices in Las Vegas, Reno, Phoenix, Tucson, Nogales, and Denver. Fennemore Craig's substantial business practice covers commercial litigation, government affairs, unmanned aerial systems, health care, immigration, finance, mergers and acquisitions, real estate and numerous other practice areas. With a heritage of more than 130 years of service to clients, we pledge to treat every client relationship with integrity and respect. We strive to provide value in each matter we undertake, delivering solutions vital to the growth and prosperity of business and our communities.