When
Friday, February 23, 2018 -
Where
Thomas and Mack Moot Court Facility (BSL 151)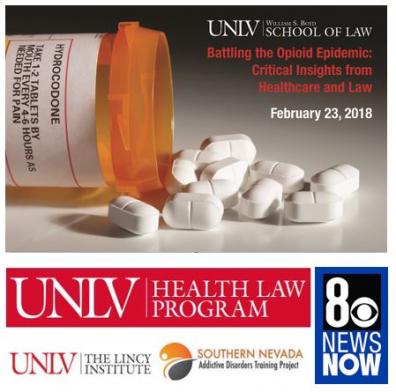 Battling the Opioid Epidemic: Critical Insights from Healthcare and Law
Friday, February 23, 2018
Thomas and Mack Moot Court Facility
Approved for 5 CLE Credits which includes 1.5 substance abuse credit
Watch a video recording of this event.
Please join the UNLV Health Law Program on February 23, 2018, at the UNLV William S. Boyd School of Law to discuss the opioid epidemic. This day-long event will bring together leading experts to discuss the science of addiction and model policy reforms in Nevada, other states, and other countries.

Featured speakers will include: Melissa Piasecki, MD (Executive Associate Dean and Professor, University of Nevada, Reno School of Medicine), Corey Davis, JD, MSPH (Deputy Director & Staff Attorney, The Network for Public Health Law - Southeastern Region Office and the National Health Law Program), Sara Gordon, JD (Associate Professor of Law, UNLV William S. Boyd School of Law), Sara Hunt, PhD (Assistant Dean of Behavioral Health Sciences, UNLV School of Medicine, and Director, UNLV Mental and Behavioral Health Coalition), Kelly Dineen, RN, JD, PhD (Assistant Professor and Director of the Health Law Program, Creighton University School of Law), Joanne Csete, PhD (Associate Professor of Clinical Population and Family Health, Columbia University), and George Knapp, Chief Reporter (KLAS Channel 8's I-Team Investigative Unit).

Agenda
Friday, February 23, 2018
9:00 a.m. - 4:00 p.m.
Thomas & Mack Moot Court Facility
Continental Breakfast and Registration (Moot Court Lobby)
8:00 – 9:00 a.m.
Introduction:

Dean Daniel Hamilton, UNLV Boyd School of Law
Dr. David Orentlicher, UNLV Boyd School of Law

9:00 – 9:10 a.m. (10 mins)
Session 1: The Science of Addiction

Dr. Melissa Piasecki, UNR School of Medicine

9:10 – 10:00 a.m. (50 mins)
Session 2: Challenges to Professionals Responding to Opioid Addiction

Captain William Scott, Las Vegas Metropolitan Police
Sergeant Braden Schrag, Las Vegas Metropolitan Police
Dr. Lesley Dickson, Center for Behavioral Health
Dr. Sara Hunt, UNLV School of Medicine
Dr. Stephanie Woodard, Nevada Dept. Health & Human Services

10:05 – 10:55 a.m. (50 mins)
Refreshments
10:55 – 11:05 a.m. (10 mins)
Session 3: Impact of Opioid Regulation on Legitimate Opioid Prescribing

Professor Kelly Dineen, Creighton University
George Knapp, Chief Investigative Reporter, KLAS-TV
Jeremy Lipshutz, Monos Health
Paul Edwards, Nevada State Board of Pharmacy

11:05 – 11:55 a.m. (50 mins)
Session 4: Implications of Important Legal Developments in Nevada

Tiffany L. Nocon, JD
Robert Eglet, Eglet Prince Law Firm
Professor Sara Gordon, UNLV Boyd School of Law

12:00 p.m. – 12:50 p.m. (50 mins)
Lunch Break – Tam Alumni Center
1:00 – 1:50 p.m. (50 mins)
Session 5: Prevention and Harm Reduction Strategies: The National Landscape

Corey Davis, JD, MSPH, National Health Law Program

2:00 p.m. – 2:50 p.m. (50 mins)
Refreshments
2:50 – 3:00 p.m. (10 mins)
Session 6: Lessons from Other Countries

Professor Joanne Csete, Columbia University Mailman School of Public Health

3:00 p.m. – 3:50 p.m. (50 mins)
Closing Remarks:

Dr. David Orentlicher, UNLV Boyd School of Law

3:50 p.m. – 4:00 p.m. (10 mins)