When
Friday, February 21, 2014 -
Where
BSL 110
THE SPORTS LAWYERS ASSOCIATION

AND THE WILLIAM S. BOYD SCHOOL OF LAW PRESENT
HOT TOPICS IN NEVADA SPORTS LAW

This program has been approved for 3 CLE credits.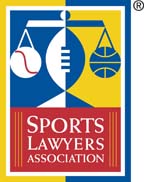 This program will feature a panel of experts discussing intellectual property matters, social media issues, sports agents, an outlook on Nevada Sports Law, and how to break into the sports industry. The panelists will focus on the following topics: protection of trademark rights, protection of athlete images; college, team and league social media policies, how to advise clients on legal matters involving sports related social media issues; how agents recruit clients and negotiate contracts; and gambling issues in sports and legal implications of sports in Las Vegas. Finally, they will provide participants with guidance on how to break into the sports law industry.

February 21, 2014
2:00 p.m. - 5:30 p.m.
Agenda
Click here for agenda.
Registration
| | |
| --- | --- |
| | For registration, cost and payment details, click here. |
Moderator(s)
Christian Spaulding - Student, UNLV William S. Boyd School of Law
(TBD) - Student, UNLV William S. Boyd School of Law
Panelists
Robert J. Caldwell - Shareholder: Kolesar & Leatham
Robert J. Caldwell is a Shareholder of Kolesar & Leatham, concentrating his practice in business and complex civil litigation, including class actions, contract disputes, lender liability, product liability, sports law, international law, intellectual property and employment law matters. He regularly serves as local Nevada counsel for national and international law firms in a wide variety of matters.
Caldwell received his Juris Doctorate degree from the University of Alabama School of Law in 1999 and a Bachelor of Arts degree from Miami University (Ohio) in 1996. He also studied international banking law at the University of Fribourg (Switzerland). Prior to commencing law school, Caldwell worked for U.S. Senator Mitch McConnell in Washington, D.C., advising the Senator on matters of military and foreign affairs.
In February 2013, Caldwell was elected as an Officer of the American Bar Association's Tort Trial and Insurance Practice Section (TIPS). In 2014, he will begin a two-year term as the Section's Revenue Officer, overseeing relationships with sponsors and managing non-dues revenue on behalf of over 25,000 members of the ABA's third-largest Section. Previously, Caldwell served as a Member of the Section's Governing Council and as Chair of its Business Litigation Committee, among other roles. In 2009 and 2012, Caldwell travelled to Beijing with other ABA leaders to teach Chinese lawyers and business executives about the American legal system. In 2010, he became the youngest Nevadan elected as a Fellow of the American Bar Foundation, an honor reserved for less than one-third of one percent of attorneys admitted in any jurisdiction.
In May 2013, Caldwell was elected as Nevada's only member of the Union Internationale des Avocats (UIA), the International Association of Lawyers. At its 2012 annual Congress in Dresden, Germany, Caldwell delivered the Keynote Address to the UIA Sports Law Commission, discussing issues relating to match fixing and other frauds in sports, including Nevada's regulation of sports gaming. At its 2013 annual Congress in Macau, China, Caldwell led a panel of the UIA Litigation Commission, detailing the unique challenges when representing gaming companies in litigation.
Caldwell leads the firm's Entertainment and Sports Law Group. Representing professional athletes and teams in litigation and transactional matters, Caldwell's sports law clients have included the Los Angeles Angels and Cincinnati Reds of Major League Baseball, the Tampa Bay Buccaneers of the National Football League, Borussia Moenchengladbach of the German Bundesliga, NFL All-Pro placekicker Rob Bironas and Eric Prindle, former Heavyweight Tournament Champion of Bellator MMA (mixed martial arts). Caldwell has also represented clients in sport-related personal injury and wrongful death actions involving off-road racing, skiing and golf course incidents.
In addition to his active litigation practice, Caldwell is also an accomplished author. He is currently finishing a treatise for West, a Thomson Reuters company, one of the largest legal publishers in the world. The treatise, "Handling Business Tort Cases," is scheduled for publication in 2014. It will serve as a desk reference for lawyers on how to handle litigation involving corporate clients. He has also published articles on lender liability, sports law and law practice management.
Finally, Caldwell is active in community and volunteer activities in the Las Vegas area. He oversees the firm's participation in the Children's Advocacy Program (CAP) of the Legal Aid Center of Southern Nevada, representing abused and neglected children and serving as their advocate in court proceedings. He has been recognized twice for as a member of the 100 Hours Club, donating more than 100 hours of legal services to CAP clients in a given year. Caldwell is also a licensed soccer referee, officiating top-level competitive youth games for the U.S. Soccer Federation and the Nevada Interscholastic Activities Association. Working with the Honorary Consul of the Federal Republic of Germany, Caldwell, who speaks German, also helps organize the participation of German youth soccer teams for the Las Vegas Mayor's Cup International Showcase youth soccer tournament.
Caleb E. Jay - Senior Director, Legal Affairs & Associate General Counsel: Arizona Diamondbacks
Caleb E. Jay is the Senior Director, Legal Affairs & Associate General Counsel for the Arizona Diamondbacks. He joined the organization in June 2007. His responsibilities include drafting sponsorship and other business contracts, preparing documents for marketing promotions, handling intellectual property matters, and providing legal advice on general business matters.
Jay spent eleven seasons with the Oakland Athletics, joining the team as a bat boy in 1995, and working his way up to Assistant General Counsel, a position he held from 2003-2005. From 2006-2007, he was an Associate with Carroll, Burdick & McDonough LLP, where he practiced real estate, business, and corporate law.
Jay is currently an adjunct professor at Arizona State University College of Law, where he teaches Sports Law. His prior teaching experience includes serving as an adjunct professor at Phoenix School of Law and at Dominican University of California. He was also a grader for the California State Bar Examination.
Jay is actively involved in the community. He serves on the Board of Trustees for the National Multiple Sclerosis Society - Arizona Chapter and is on the Advisory Board for Children First Academy, a charter school where 100% of the students are at the poverty line and 40% are homeless. Jay earned a B.A. from Emory University, where he was the president of the school's club rugby team. He received his J.D. from the University of San Francisco School of Law. He also earned a M.A. in Sport Management from the University of San Francisco. Jay is licensed to practice law in Arizona, California, and Nevada.
Michael P. Mersch - Senior Vice President, Business and Legal Affairs: Zuffa, LLC/UFC
Michael P. Mersch serves as the Senior Vice President of Athlete Relations, Business & Legal Affairs, Assistant General Counsel and Chief Lobbyist for Zuffa, LLC ("Zuffa"), d/b/a Ultimate Fighting Championship® ("UFC"). He is responsible for negotiating and drafting all athlete agreements, licensing, medical and regulatory issues involving all UFC athletes, drafting and review of mixed martial arts ("MMA") legislation and regulations, and for government relations efforts on behalf of Zuffa worldwide.
Prior to joining Zuffa, Mersch served in the Nevada Attorney General's Office from August 1998 to March 2007. In his position as a Senior Deputy Attorney General, he represented several different state governmental entities and was the chief legal counsel to the Nevada State Athletic Commission. Mersch also serves on the State Bar of Nevada Character and Fitness Committee and the State Bar of Nevada Southern Nevada Lawyer Disciplinary Panel.
Mersch received Bachelor of Business Administration degrees in Business Management and Marketing in 1992 from the University of Wisconsin-Madison, and his Juris Doctoral degree in 1995 from Drake University. Mersch has lectured nationally with the Sports Lawyers Association as well as various conferences on the subject of MMA and the administrative, legal and regulatory issues related to the sport.
MMA has been called the fastest growing sport in the world and the UFC is the world's largest promoter of MMA. Over the last 13 years, the UFC has grown into the world's largest live pay-per-view event content provider, holding approximately 13 pay-per-view events annually. With offices in Las Vegas, Toronto, London, Singapore and Sao Paulo, the UFC has expanded its television programming distribution to more than 145 countries, territories and jurisdictions, which is seen in over 800 million homes worldwide in 28 different languages.
Since 2001, the UFC has led the effort to properly regulate the sport of MMA, both nationally and internationally. Zuffa has always embraced the notion of running towards regulation; not away from it. MMA events are now approved and regulated in 49 states, various Tribal Lands across North America, as well as in Canada and Australia. Additionally, in 2012, with the assistance of Mersch and others at the UFC, the International Mixed Martial Arts Federation was formed with the goal of furthering the development and recognition of the sport of mixed martial arts and enabling international competition through the organization of national federations around the world
Eric Toliver - Senior Associate Athletics Director/Compliance: UNLV
Eric Toliver, enters his 23rd year at UNLV and 15th year as the Associate Athletics Director for Administration and Compliance after taking over the Director of NCAA Compliance duties midway through the 1998-99 school year.
A 1992 graduate of Western State College (Co.). Toliver's responsibilities include overseeing all aspects of compliance regulations on campus, conducting internal and external investigations to ensure that UNLV's 17 Division I sports, staff and coaches remain in compliance with NCAA, MWC and UNLV parameters.
Toliver, also oversees UNLV's Student Athlete Advisory Committee, Strength & Conditioning staff and all student-athlete conduct and discipline related matters. He has served on the Division I Agent/Amateurism Fact- Finding Committee, Division I - Softball Committee, NCAA Site Representative for Regional, Super Regional and College Softball World Series and currently sits on the membership's Division I Recruiting & Personnel Cabinet.