When
Tuesday, February 5, 2019 -
Where
BSL Faculty Lounge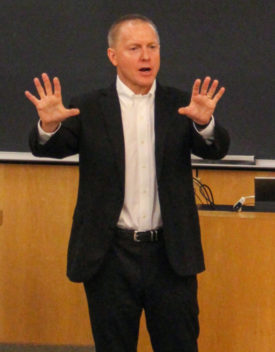 Kevin O'Keefe has been a lawyer for 35 years and practiced as a trial lawyer in rural Wisconsin for 17 years represented plaintiffs, whether they were injury victims and their family members or small businesses.
In the mid-nineties, after he discovered the Internet in the form of AOL, he began helping people by answering questions on AOL message boards and later starting his own listservs and message boards to help people on personal injury, medical malpractice, workers compensation and plaintiff's employment law matters. In 1999, O'Keefe closed his law firm and moved to Seattle accompanied by his family to start his first company. Prairielaw.com, a virtual law community of people helping people, a sort of AOL on the law featuring message boards, articles, chats, listervs and an ask-a-lawyer. Prairielaw.com was sold to LexisNexis, where it was incorporated into Martindale-Hubbell's lawyers.com.
After a stint as VP of Business Development at LexisNexis, O'Keefe founded LexBlog out of his garage in 2004 (no affiliation with LexisNexis). As a result of the outstanding work of his team of twenty and his blogging, LexBlog has grown to a network of over 18,000 legal professionals, world-wide, publishing on their platform. While LexBlog may have started by becoming the legal industry's leading digital design and publishing platform, Lexblog is now building the world's largest and most comprehensive legal news and information network by drawing on the contributions of legal bloggers worldwide.
Legal professionals publishing on the Lexblog platform are automatically included as its contributors. Legal bloggers on other platforms join to contribute at no cost.
Please join us in welcoming Kevin O'Keefe to the Boyd School of Law for his Faculty Enrichment lecture on Tuesday, February 5, 2019.
The event is free but registration is required. To RSVP, click here