When
Tuesday, November 19, 2019 -
Where
RLL 4th Floor Faculty Lounge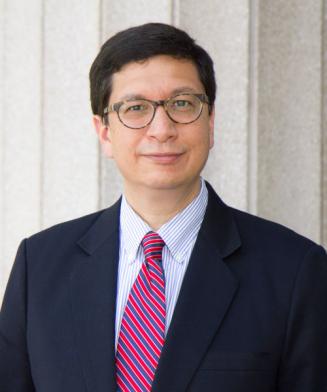 Jorge L. Contreras teaches in the areas of intellectual property, law and science, and property law. He serves on the Scientific Advisory Board of the Utah Genome Project.
Professor Contreras has previously served on the law faculties of American University Washington College of Law and Washington University in St. Louis, and was a partner at the international law firm Wilmer Cutler Pickering Hale and Dorr LLP, where he practiced transactional and intellectual property law in Boston, London and Washington DC.
Professor Contreras's current research focuses, among other things, on the development of technical standards and the use and dissemination of data generated by large-scale scientific research projects. His published work has appeared in scientific, legal and policy journals including Science, Nature Biotechnology, Georgetown Law Journal, Arizona State Law Journal, North Carolina Law Review, Florida State Law Review, Jurimetrics, American University Law Review, Harvard Journal of Law and Technology, Berkeley Technology Law Journal, Antitrust Law Journal, Santa Clara Law Review and Utah Law Review. He recently co-edited the book Patent Pledges: Global Perspectives on Patent Law's Private Ordering Frontier (Edward Elgar 2017) and has been quoted in the New York Times, Wall Street Journal, Economist, Bloomberg, Washington Post, Korea Times and other national and international media outlets.
Professor Contreras serves Co-Chair of the Interdisciplinary Division of the ABA's Section of Science & Technology Law, a member of the National Institutes of Health (NIH) Council of Councils, and the Intellectual Property Rights Policy Committee of the American National Standards Institute (ANSI). He has recently served as Co-Chair of the National Conference of Lawyers and Scientists, a member of the National Academy of Sciences (NAS) Committee on Intellectual Property Management in Standard-Setting Processes, the Advisory Council of NIH's National Center for the Advancement of Translational Sciences (NCATS), the Cures Acceleration Network (CAN) Board and the National Advisory Council for Human Genome Research.
He is a cum laude graduate of Harvard Law School (JD) and Rice University (BA, BSEE) and clerked for Chief Justice Thomas R. Philips of the Texas Supreme Court.
Please join in welcoming Professor Contreras to the Boyd School of Law for his Faculty Enrichment Lecture on Tuesday, November 19. 2019 at noon in the Faculty Lounge.