When
Tuesday, January 28, 2020 -
Where
RLL 4th Floor Faculty Lounge
Lecture Summary: In the article, "Civil Rights Law in Living Color," Prof. Harpalni examines how American civil rights law has treated "color" discrimination and differentiated it from "race" discrimination. It covers views of "color" in the antebellum era, Reconstruction laws, early equal protection cases, the U.S. Census, modern civil rights statutes, and in People v. Bridgeforth—a landmark 2016 ruling by the New York Court of Appeals. Prior skin color discrimination cases involved various civil rights statutes and had been brought by a single Plaintiff of one racial subclass (e.g., a dark-skinned African American). Bridgeforth was the first case to allow Batson challenges for color discrimination, and the first case under any law to recognize skin color discrimination for a multiracial color class--a group of dark-skinned individuals of different races. The Article considers the potential of such multiracial color classes for the future of civil rights law.
---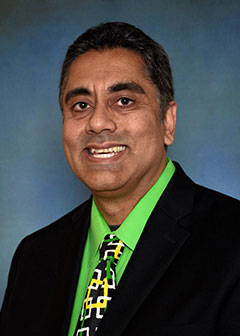 Professor Vinay Harpalani teaches courses in constitutional law, civil rights, civil procedure, and employment discrimination at the University of New Mexico, School of Law. Professor Harpalani was the recipient of the 2017 Derrick A. Bell, Jr. Award from the Association of American Law Schools Section on Minority Groups; and the 2016 Junior Teaching Faculty Award from the Society of American Law Teachers. His scholarship focuses on the intersections between race, education, and law, as he explores the nuances of racial diversity and identity from various disciplinary perspectives. His writings have covered topics such as affirmative action in university admissions, racial ambiguity, skin color discrimination, and the psychological development of racial identity. Professor Harpalani's 2012 law review article, "Diversity Within Racial Groups and the Constitutionality of Race-Conscious Admissions", which was published in the University of Pennsylvania Journal of Constitutional Law, was cited in eight U.S. Supreme Court amicus briefs in Fisher v. University of Texas at Austin I and II, and was quoted (with citation omitted) in Justice Samuel Alito's dissent in Fisher II. His other articles have appeared or will appear in the Maryland Law Review, University of Pennsylvania Law Review Online, Seton Hall Law Review, NYU Annual Survey of Law, Duke Journal of Constitutional Law and Public Policy, and other journals. Several of these articles have also been cited in legal briefs or opinions at the U.S. Supreme Court, U.S. Court of Appeals for the Sixth Circuit, and the New York Court of Appeals.
http://lawschool.unm.edu/faculty/harpalani/index.html
Please join in welcoming Professor Harpalani to the William S. Boyd School of Law for his Faculty Enrichment Lecture on Tuesday, January 28, 2020 at noon in the RLL 4th Floor Faculty Lounge.