When
Monday, December 3, 2018 -
Where
RLL 4th Floor Faculty Lounge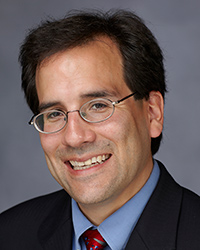 Please join us as we welcome a World Affairs Council of Las Vegas delegation from the country of Georgia for a discussion of "Politically Engaged Unionism: The Las Vegas Culinary Union-Casino Resorts 2018 Negotiations."
William S. Boyd School of Law's Ruben J. Garcia will be speaking as part of the Faculty Enrichment Lecture Series.
Ruben J. Garcia is the Associate Dean for Faculty Development and Research, Co-Director of the Workplace Law Program, and Professor of Law at the University of Nevada, Las Vegas, William S. Boyd School of Law. Prior to joining the UNLV faculty in 2011, he was Professor of Law and Director of the Labor and Employment Law Program at California Western School of Law in San Diego, where he taught for eight years. He also has held academic appointments at the University of California, Davis School of Law, the University of Wisconsin Law School, and at the University of California, San Diego. Before beginning his teaching career in 2000, Garcia worked as an attorney for public and private sector labor unions and employees in the Los Angeles area. He is a graduate of Stanford University, received his Juris Doctor from UCLA School of Law, and has a Master of Laws (LL.M.) degree from the University of Wisconsin Law School.
His scholarship has appeared in a number of leading law reviews, including the Hastings Law Journal, the University of Chicago Legal Forum and the Florida State University Law Review, among others. His first book, published by New York University Press in 2012, is entitled Marginal Workers: How Legal Fault Lines Divide Workers and Leave Them Without Protection. From January 2014 to January 2016, he served as the Co-President of the Society of American Law Teachers (SALT), and has served on the Board of Directors of the ACLU of Nevada. In Fall 2015, he was selected as a UNLV Leadership Development Academy fellow. He is a member of the Board of Directors of the American Constitution Society (ACS), a national nonprofit organization, and an advisor to the Boyd Law Student and Las Vegas Lawyer Chapters of the ACS.
Please RSVP for this event by clicking here.