Higher Education Leadership During Rapid Legal Change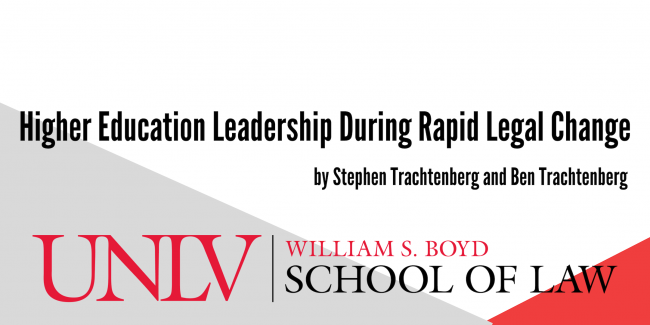 Thursday, March 28, 2019
4:00 p.m. - 5:00 p.m.
Thomas & Mack Moot Courtroom
Reception to follow
The event is free but registration is required. Please RSVP here.
---
In 1969 students stormed the barricades (as the phrase goes), disrupting classes, protesting the war in Vietnam, and turning upside down the paradigm of college governance. Students wanted their voices heard.  This was the beginning of a dynamic change to how colleges were managed, as well as to how they were perceived by the general public, state legislators and boards of overseers, by the faculty, and most significantly by students. Stephen Joel Trachtenberg was there, helping to coordinate the response to protestors at Boston University. He subsequently became a university president, serving in that role at two institutions for a total of thirty years, and has written books about higher education administration.
Beyond protest marches and the take-over of campus buildings, students have new arrows in their quivers: the use of law as a "weapon" for good and bad, and the active engagement of social media. Advocacy has a strong public relations overtone, along with the use of one of the most important tools in our political system—the courts. On the other side, administrators and governing boards use the same tools, often for opposing purposes.
When students protested at the University of Missouri in 2015, Ben Trachtenberg was there, serving as chair of the MU Faculty Council. His scholarship about the protests and their aftermath has received national coverage.
The kindling of campus "excitement" today includes broad societal concerns: issues of gender, race, free speech, reproductive health, environmental protection, economic development, and countless other topics. These are wrapped around university policies concerning admissions, sexual harassment, divestment, governance, public engagement, curriculum, faculty hiring, campus speech, and other areas.
These topics have attracted intensified public attention and are on the front burner of politicians' agendas, both on the federal and state level. How campus leadership handles all of this will define the role of higher education as an agent of change in our society for years to come.
---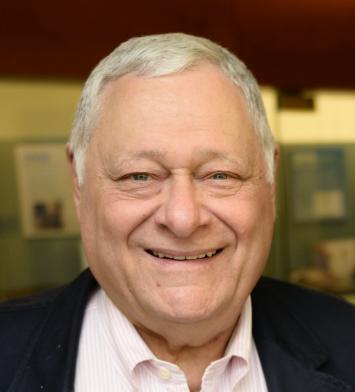 Stephen Joel Trachtenberg is President and University Professor of Public Service emeritus at The George Washington University. He served as GW's 15th president for nearly two decades, from 1988 to 2007. Trachtenberg came to GW from the University of Hartford, where he had been president for 11 years. He also held positions as vice president and dean of the College of Arts and Sciences at Boston University, and served as the special assistant to the U.S. Education Commissioner, Department of Health, Education and Welfare.  He is a consultant to Korn/Ferry International and Rimon Law.
Trachtenberg is a member of the Council on Foreign Relations, Phi Beta Kappa and the Bankinter Foundation in Madrid.  He is a Fellow of the American Academy of Arts and Sciences, a Fellow of the American Bar Foundation and a Fellow of the National Academy of Public Administration.
Trachtenberg has published seven books: Leading Colleges and Universities: Lessons from Higher Education Leaders, (co-editor) published by Johns Hopkins University Press came out in the spring of 2018. Presidencies Derailed: Why University Leaders Fail And How to Prevent It, (co-editor) published by JHUP; BMOC: A University President Speaks Out on Higher Education published by Simon and Schuster's Touchstone Press; Write Me A Letter: The Wit and Wisdom of Stephen Joel Trachtenberg; Reflections on Higher Education; Thinking Out Loud: A Decade of Thoughts on Higher Education; and Speaking His Mind: Five Years of Commentary on Higher Education. He is co-editor of two books: The Art of Hiring in America's Colleges & Universities and Letters to the Next President, published by The Korn/Ferry Institute. 
Trachtenberg has served on numerous boards such the Board of Trustees of the National Defense University in Washington, DC, DC Chamber of Commerce, the Board of Trade and the Federal City Council.  He was a member of the Board of the Loctite Corporation, MNC and Riggs Banks. 
Trachtenberg chaired the Rhodes Scholarships Selection Committee for Maryland, North Carolina and the District of Columbia. He is a former member of the Advisory Committee to the Chief of Naval Operations.
He earned a Bachelor of Arts degree from Columbia University, Juris Doctor from Yale University, and Master of Public Administration degree from Harvard University. In addition, he holds 20 honorary doctoral degrees, including a Doctor of Laws from his alma mater, Columbia University. Trachtenberg and his wife, Francine Zorn Trachtenberg, have two sons and four grandchildren.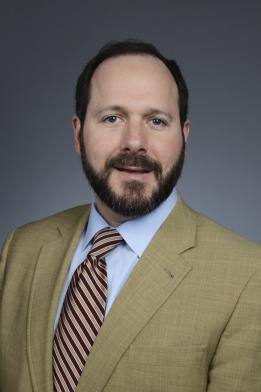 Ben Trachtenberg is an associate professor of law at the University of Missouri, and from 2015 to 2017 he served as chair of the MU Faculty Council.
Professor Trachtenberg has published in the Florida Law Review, the Oregon Law Review, the Hastings Law Journal, the New York Times, the Chronicle of Higher Education, and the ABA Journal, among other publications.
Professor Trachtenberg teaches Criminal Procedure, Evidence, and Professional Responsibility.
In 2012, Professor Trachtenberg received the Gold Chalk Award for excellence in teaching from the University of Missouri Graduate Professional Council.  In 2014, he won the Provost's Outstanding Junior Faculty Teaching Award, and in 2015, he received the Husch Blackwell Distinguished Faculty Award from the School of Law. In 2018, the University of Missouri selected him for the Provost's Award for University Citizenship in Leadership. He is a life fellow of the American Bar Foundation.
During 2018-2019, Professor Trachtenberg is a fellow in the University of Missouri cohort of the SEC Academic Leadership Development Program.
Professor Trachtenberg joined the MU faculty in 2010. Before coming to Missouri, Professor Trachtenberg was a Visiting Assistant Professor at Brooklyn Law School from 2008-2010.  From 2006-2008, he was a Litigation Associate at Covington & Burling LLP assigned to white collar investigations and civil securities cases, and he also handled pro bono representations in housing and employment law matters.
Professor Trachtenberg received his J.D. from Columbia Law School, where he was an Articles Editor on the Columbia Law Review. He has an M.A. in International Studies from the University of Limerick, Ireland, which he attended as a George J. Mitchell Scholar. He received his B.A. from Yale in Political Science, with distinction in the major. After graduating from law school, Professor Trachtenberg clerked at the United States Court of Appeals for the Second Circuit with Judge José A. Cabranes.
Professor Trachtenberg is co-author (with Professor Anne Alexander) of Show Me Criminal Procedure, an open educational resource criminal procedure casebook made available to students at no cost. His recent scholarship includes "The 2015 University of Missouri Protests and their Lessons for Higher Education Policy and Administration" (Kentucky Law Journal, 2018), "Advice for a New Faculty Senate Chair" (Academe, May-June 2018), and "How University Title IX Enforcement and Other Discipline Processes (Probably) Discriminate Against Minority Students" (Nevada Law Journal, 2017).
March 28, 2019
4:00 PM - 5:00 PM
Thomas & Mack Moot Courtroom