When
Thursday, February 23, 2012 -
Where
BSL Thomas and Mack Moot Court Facility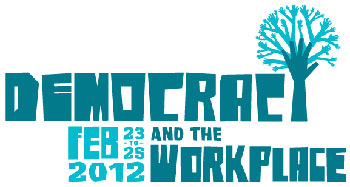 The Saltman Center for Conflict Resolution hosted a symposium on contemporary issues in labor and employment law on February 23-25, 2012.

Collective bargaining has become an issue in the United States, riots have roiled Britain, and the Arab spring continues to change politics in many ways. Protests by people who work and who are out of work are becoming more common. To explore the connection between having a voice at work and a voice in democracy, the Saltman Center hosted a symposium at the William S. Boyd School of Law at the University of Nevada, Las Vegas from Thursday, Feb. 23 to Saturday, Feb. 25. Leading scholars and practitioners in labor and employment law, human resource management, dispute resolution, dialogue and deliberation, and democracy spoke on the topic.

For more information, contact Sandra Rodriguez at 702-895-2428 or sandra.rodriguez@unlv.edu.
Powerpoint Slides from the event:
Compressed Folder (Download and Extract)
Webcast:
Click here
Schedule - Full Version
To view the full schedule, download the PDF program here.
Schedule - At a Glance
Thursday, February 23, 2012
Thomas & Mack Moot Court
| | |
| --- | --- |
| 6:30-8:15 p.m. | Opening Panel: Voice in the Workplace: Focus on Nevada |
| 8:15-9:00 p.m. | Reception |
Friday, February 24, 2012
Tam Alumni Center (TAC)
| | |
| --- | --- |
| 8:00-8:35 | Breakfast |
| 8:35-8:45 | Welcoming Remarks |
| 8:45-9:35 | Opening Plenary: Are Democratic Workplaces Possible, or Only Necessary to Our Survival? |
| 9:35-9:50 | Break |
| 9:50-12:20 | Panel 1: Democracy and Work |
| 12:20-1:50 | Lunch |
| 1:50-3:25 | Panel 2: The NLRB, Unions, Courts, and Democracy |
| 3:25-3:40 | Break |
| 3:40-5:40 | Panel 3: Individuals, the Collective, and Democracy: Race, Class, Gender, Disability, and Individual Employee Rights |
Saturday, February 25, 2012
Boyd School of Law (BSL) room 102
| | |
| --- | --- |
| 8:15-8:45 | Breakfast |
| 8:45-10:35 | Panel 4: The Public Sector Workplace and State and Local Democracy |
| 10:35-10:45 | Break |
| 10:45-11:55 | Panel 5: Voice and Democracy in Education |
| 11:55-12:45 | Lunch |
| 12:45-2:50 | Panel 6: Designs for Voice at the Workplace |
| 2:50-3:00 | Break |
| 3:00-4:00 | Closing Discussion |
---
Related Links
Democracy at Work?: Spring Symposium Aims to Address the Question
Saltman Center for Conflict Resolution Fall 2011 Newsletter
The U.S. government, its citizens and its businesses espouse democracy just about everywhere in the world – except in their own nation's workplaces. That contradiction will be one of the key topics of a two-day Saltman Center for Conflict Resolution labor and employment law symposium in the spring. >>Read more: http://law.unlv.edu/node/10785