When
Tuesday, September 24, 2019 -
Where
Will be disclosed on registration site.

Law and Leadership Program Speaker Series: James Comey
Tuesday, September 24, 2019
4:00 p.m. - 5:30 p.m.
Reception to follow
Registration is required. Visit Eventbrite.com to register.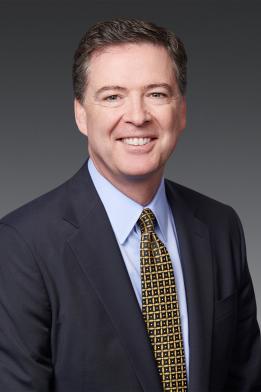 James Comey led the Federal Bureau of Investigation from 2013 to 2017, appointed to the post by President Barack Obama. As Director, he confronted foreign intelligence operations, mass shootings, the surge of ISIS, an opioid epidemic, and controversy over police shootings. Inside the FBI, while navigating government shutdowns, he tried to change how the FBI approached leadership, diversity and cyber threats.
Prior to his service at the FBI, Comey worked as a federal prosecutor in New York and Virginia and served as U.S. attorney for the Southern District of New York and the U.S. deputy attorney general in the administration of President George W. Bush. In the private sector, he has worked at law firms and as the general counsel of Lockheed Martin, the world's largest defense contractor, and Bridgewater Associates, the world's largest hedge fund.
Throughout his career, Comey has taught at the graduate and undergraduate level at a variety of universities and is currently teaching a course on leadership at William and Mary, his alma mater.
Director Comey is the author of A Higher Loyalty, which was published earlier this year.
---
For media inquiries, please contact: Michael Bertetto, Director of Marketing and Communications at michael.bertetto@unlv.edu.