When
Friday, April 8, 2011 -
Where
UNLV Student Union Theater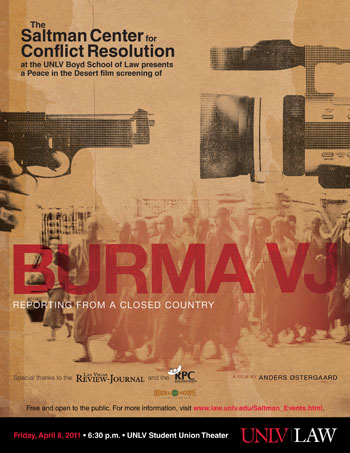 Burma VJ, an Academy Award nominated documentary, explores the work of a team of underground reporters determined to videotape the uprising against the military regime in Myanmar (Burma) that began in September 2007 for the rest of the world to see. It won the 2009 Sundance Film Festival award for World Cinema Documentary Editing and the 2009 Berlin Film Festival International Human Rights Film Award, among others. As part of its Peace in the Desert™ Video Screening Series, the Saltman Center presents a viewing of the film, accompanied by commentary by Michael Adler, Woodrow Wilson Center Public Policy Scholar and former correspondent for Agence France-Presse News Agency, who covered the uprising in Burma in 1988.
April 8, 2011
6:30 p.m.
UNLV Student Union Theater
Flyer: PDF
Free and open to the public; no RSVP required.
Special thanks to the

and to the UNLV Rebel Pride Council
Photo Gallery:
To view photos of this event, click here.
(Adobe Flash required)
News Clippings:
04-05-11 Las Vegas Sun: Saltman Center Presents a Film Screening of Burma VJ
04-04-11 High Beam: UNLV Law School's Saltman Center Presents Film Screening of Academy Award Nominated "Burma VJ" April 8
04-05-11 Channel 8 News: UNLV Law School Presents Documentary Film
04-08-11 Las Vegas Events: Saltman Center Presents a Peace in the Desert Film Screening of Burma VJ
04-11-11 The Rebel Yell: Film on Burma highlights oppression by government, discussion urges engagement