When
Tuesday, October 23, 2012 -
Where
UNLV Student Union Theater
The Saltman Center for Conflict Resolution at the UNLV William S. Boyd School of Law presents a Peace in the Desert film screening and panel discussion of "Streetball Hafla," a film exploring how basketball can foster harmonious relationships between Jews and Arabs in Israel.
Free and open to the public; no RSVP required.
Panelists:
Sasha Nizgoda: Nizgoda was born into a unique family. Her mother, Gayla, was born in Ohio and raised in a Jewish household while her father, Hosni, was born in Egypt and raised as a Muslim. Nizgoda's parents were very open-minded and wanted their children to be exposed to all religions. Nizgoda attended Hebrew school every Monday and Wednesday and went to the Islamic Cultural Center for Sunday school at the mosque until she was 16 years old.
Gilad Berman: A young Israeli Jewish tennis player who grew up in Israel, UNLV student Berman will provide his personal perspective on the events depicted in the film.
Mohammad Nasereddin: Nasereddin grew up in the West Bank, moved to the United States when he was 14 years old, and is now a student at UNLV.
Ricky Sobers: A former professional basketball player who spent 11 seasons in the NBA, Sobers attended DeWitt Clinton High School in New York City and the University of Nevada, Las Vegas before being selecting by the Phoenix Suns with the 16th pick of the 1975 NBA Draft. A 6'3" guard, Sobers played two seasons for the Suns before joining the Indiana Pacers in 1977, where he averaged a career best 18.2 points per game during the 1977-78 NBA season. Sobers also played with the Chicago Bulls, Washington Bullets, and Seattle SuperSonics before retiring in 1986.
Tom Jackovic: Jackovic is currently Executive Director of the USA Track & Field Foundation. From 2001 to 2004, Jackovic was Regional Director of Major Gifts for the United States Olympic Committee, responsible for securing all major gifts in the eastern region of the U.S., including New York City. Serving as Associate Director of Athletic Development at Penn State University (PSU) from 1998 to 2001, Jackovic coordinated major giving for athletics, including a $13mm drive to endow the wrestling program. Prior to PSU, he worked for Triple Crown Sports as Regional Director from 1992 to 1997. His responsibilities included producing and marketing sporting competitions throughout the U.S., including basketball, soccer and football events. Jackovic is a graduate of PSU (1988) with a Bachelor of Science degree in Management and a Master of Business Administration degree in Finance from the University of Pittsburgh (1990).
Michael Saltman: Co-Founder of the Saltman Center for Conflict Resolution, he is also the Managing General Partner/President of The Vista Group, a developer and manager of office, retail, industrial and housing projects in Nevada, California, Florida and Utah. Saltman is also a partner in FFL Partners, Bounty Hunter, LLC, and VMA California, LLC.
Saltman earned his Bachelor of Arts degree from Michigan State University in 1964 and his Juris Doctor from Wayne State University Law School in 1967.
For more information, call (702) 895-2428.
Flyer: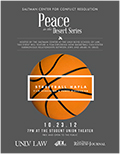 View the movie trailer here.
To view a webcast of the screening, click here.