When
Friday, April 7, 2017 -
Where
BSL Thomas and Mack Moot Court Facility (151)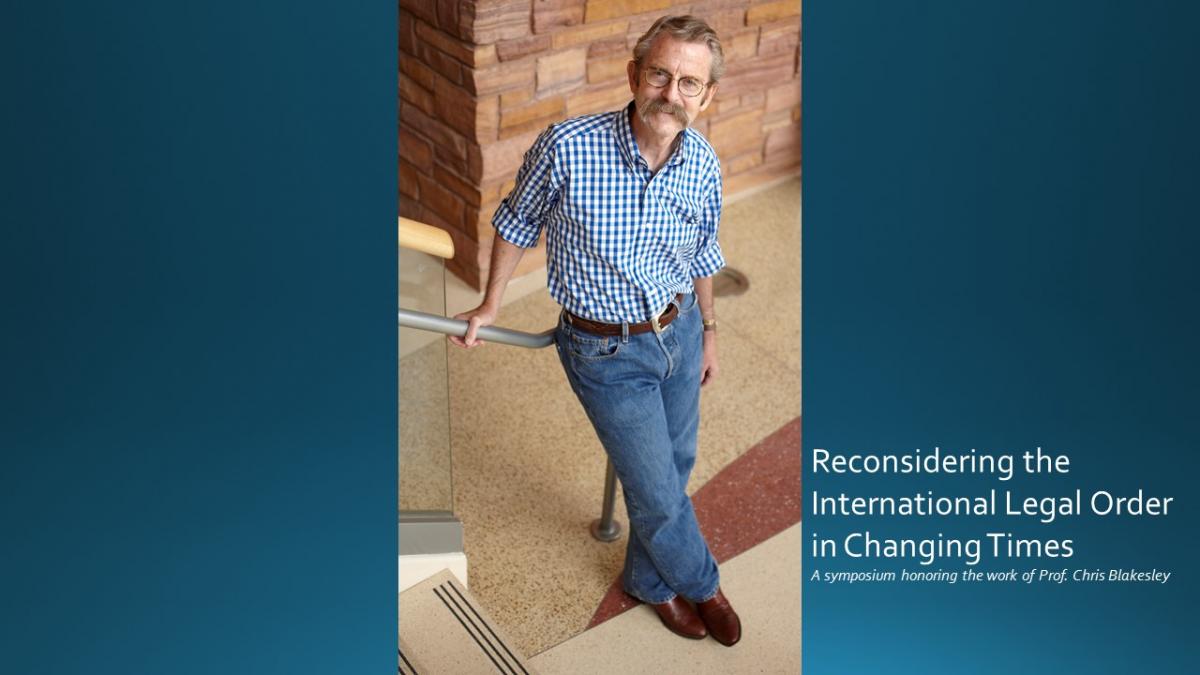 A Symposium Honoring the Work of Professor Chris Blakesley
April 7, 2017
8:15 a.m. - 6:30 p.m.
UNLV's William S. Boyd School of Law, Thomas and Mack Moot Courtroom
Professor Blakesley is a well respected expert, both nationally and internationally, on issues of international and comparative law relating to topics ranging from human rights to terrorism to family law. The symposium is an appropriate way for the UNLV Boyd School of Law to recognize Professor Blakesley's contributions.
The symposium, Reconsidering the International Legal Order in Changing Times, will consist of presentations and discussions throughout the day on Friday, April 7. All sessions will be in the Thomas & Mack Moot Court Facility on the UNLV campus.
We are planning the symposium around roundtable discussions and panels that will bring together scholars and lawyers whose work is as informed, provocative, wide ranging, and significant as Professor Blakesley's many contributions on so many stages and in so many forums.
The symposium will include discussion of the following topics: (1) emerging trends and challenges in international law and human rights law; (2) cybercrime and cyberterrorism; (3) global issues in criminal law; (4) prosecution and alternatives in international criminal law; (5) comparative criminal law and criminal procedure; (6) international and comparative family law; and (7) terrorism and the Constitution.
Professor Blakesley has been recognized by UNLV as a Barrick Distinguished Scholar, and he holds The Cobeaga Law Firm Professorship at Boyd. Before joining our faculty in 2002, he held the J.Y. Sanders Chair of International & Comparative Law at the Louisiana State University Law Center, where he taught before and after teaching at the University of Pacific McGeorge School of Law. Chris's achievements are too extensive to include in full; he earned his B.A. and J.D. from the University of Utah, a masters and doctoral degree in law from Columbia University, and an M.A. in International Law & Diplomacy from the Fletcher School of Law and Diplomacy at Tufts University. Chris's legal practice was in the Office of the Legal Adviser to the U.S. Department of State under Dr. Henry Kissinger, where he worked on matters of international criminal law, including counter-terrorism, extradition, and mutual assistance in criminal matters. Professor Blakesley has written a dozen books on topics ranging from terrorism to family law. He is also a member of the American Law Institute as well as the boards of editors and boards of advisors of many international publications, institutes, and research centers.
To register for this event, please visit the registration page.
For the program schedule, please visit here.
For more information, please contact:
Nakia Jackson-Hale at nakia.jackson-hale@unlv.edu