When
Thursday, March 27, 2014 -
Where
BSL Thomas and Mack Moot Court Facility

The UNLV William S. Boyd School of Law presents the inaugural
Robert D. Faiss Lecture on Gaming Law & Policy with

Frank J. Fahrenkopf, Jr.
Past President and CEO of the American Gaming Association

The Past, Present and Future of Gaming Law Regulation
Introductory remarks by UNLV President Don Snyder

March 27, 2014
4:00-5:30 p.m.
Thomas & Mack Moot Court
UNLV William S. Boyd School of Law
Reception to follow

Registration
This event is free and open to the public, but registration is required.

Parking
For information about parking at UNLV, click here.
Frank J. Fahrenkopf, Jr., was for two decades the President & CEO of the American Gaming Association (AGA). In his role as the chief executive of the AGA, Fahrenkopf was the national advocate for the commercial casino industry and was responsible for positioning the association to address regulatory, political and educational issues affecting the industry. A lawyer by profession, Fahrenkopf gained prominence during the 1980s, when he served as chairman of the Republican Party during the presidency of Ronald Reagan. His early legal career included 17 years of practice as a trial and gaming lawyer in Nevada, his home state. He served as the first Chairman of the American Bar Association (ABA) Committee on Gaming Law and was the founding trustee and president of the International Association of Gaming Attorneys, a worldwide organization of government gaming regulators and private attorneys acting on behalf of licensed gaming enterprises.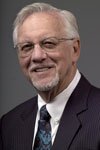 About Robert D. Faiss
Robert D. Faiss, a shareholder in the Nevada law firm Lionel Sawyer & Collins, is considered one of the world's foremost authorities on gaming law. He was named as the premier gaming attorney in the United States and one of the 100 Most Influential Lawyers in America by the National Law Journal. A well known humanitarian with a long history of public service, Mr. Faiss was Assistant Executive Secretary to the Nevada Gaming Commission; Executive Assistant to Grant Sawyer, Governor of Nevada; and a White House Staff Assistant to President Lyndon B. Johnson. He has been an adjunct professor in gaming law and policy since 2001 at the William S. Boyd School of Law at UNLV.
---
Questions? Contact Dianne Fouret at dianne.fouret@unlv.edu or (702) 895-1875.