When
Wednesday, September 21, 2016 -
Where
BSL Thomas and Mack Moot Court Facility (151)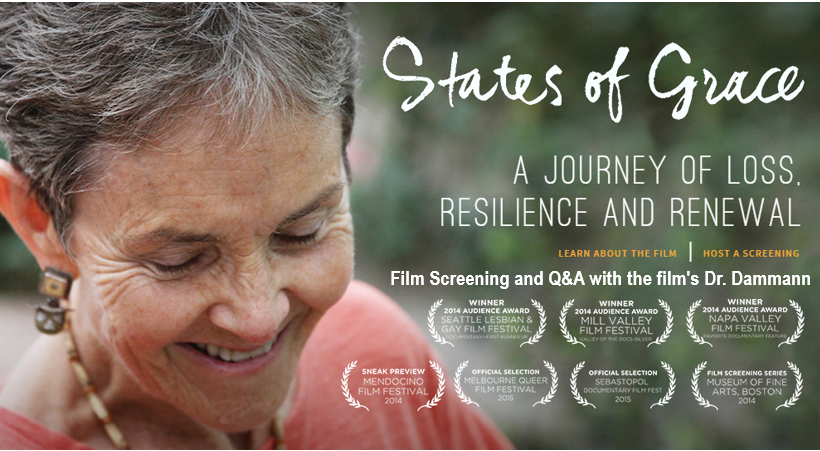 States of Grace Film Screening
Wednesday, September 21, 2016
Thomas and Mack Moot Court Facility
6:00-9:00 p.m.
2 hours CME including ethics
Click here to RSVP
Click here to watch the trailer
The UNLV Health Law Program and Boyd School of Law's Public Interest Law Film Festival will host Kate Martin, MD, MPH, MBA Cand., Associate Professor and Program Director, Family and Community Medicine Residency Program, University of Nevada, Reno School of Medicine, who has organized a screening of States of Grace: A Journey of Loss, Resilience, and Renewal (New Day Films, 2014, 75 minutes), on Wednesday, September 21, 2016.
The winner of multiple audience awards, States of Grace intimately captures the profound transformation of a revered physician and her family in the wake of a life-changing accident. For Grace Dammann, MD, a pioneering AIDS specialist who was honored by the Dalai Lama, a routine commute across the Golden Gate Bridge turned tragic when another driver crashed head on into her car. After seven weeks in a coma and a dozen surgeries, Dr. Dammann miraculously awakened with her cognitive abilities intact, though her body was left shattered. States of Grace follows her return home to the Buddhist community where she and her partner Nancy "Fu" Schroeder live with their teenage daughter Sabrina, who was born with cerebral palsy.
A meet-and-greet with Dr. Dammann will be held in the Wiener-Rogers Law Library from 4:30 to 5:30 p.m. The film screening will begin at 6:00 p.m. in the Thomas and Mack Moot Court Facility. Following the screening, Dr. Martin will lead a question-and-answer session with Dr. Dammann.