When
Tuesday, September 22, 2020 -
Where
Virtual meeting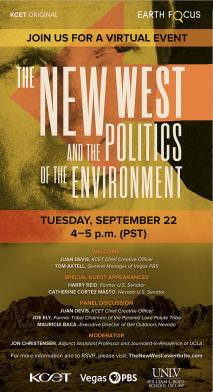 Please join us for a virtual discussion celebrating the premiere of EARTH FOCUS: "The New West and the Politics of the Environment." The film explores how iconic Nevada U.S. Senator Harry Reid set the foundations for new ways to settle water wars with respect for Native Americans, protect wilderness and endangered species, and usher in a just transition to renewable energy.
Senator Reid will take part in a special virtual screening premiere and Q&A session on Tues., Sept. 22 from 4 - 5 p.m. PT, ahead of the "The New West and the Politics of the Environment" air date. The event will be hosted by Tom Axtell (General Manager of Vegas PBS) and will feature panelists Juan Devis (KCET/Link TV Chief Creative Officer), Joe Ely (Stetson Engineers Director of Indian Project Development and former Chairman of the Pyramid Lake Paiute Tribe), Mauricia Baca (Get Outdoors Nevada Executive Director). The panel will be moderated by the documentary's executive producer Jon Christensen, UCLA Adjunct Assistant Professor in the Institute of the Environment and Sustainability. A special introduction will be given by Senator Catherine Cortez Masto.
To register for the virtual event, please visit: TheNewWest.eventbrite.com.
Upon your RSVP, an email will be sent with more information on how to participate as well as a link to watch the full documentary prior to the live virtual Q&A.
The film is co-produced by the Laboratory for Environmental Narrative Strategies (LENS) at UCLA and the event is produced in collaboration with Vegas PBS and UNLV's William S. Boyd School of Law. To watch a preview and see future air dates please visit: kcet.org/thenewwest
"The New West and the Politics of the Environment" will premiere Tues. Sept. 29 on KCET and Wed., Sept. 30 on Link TV nationwide (DirecTV 375 and DISH Network 9410).