When
Repeats every 3 days until August 13, 2020.
Tuesday, August 11, 2020 -
Where
Online Webinar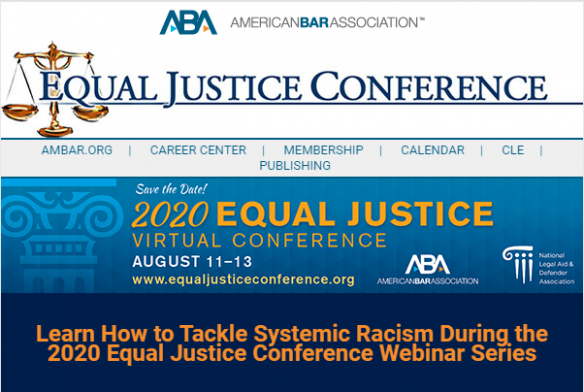 August 11 - 13, 2020
6:30 a.m. - 3:30 p.m.
As advocates and practitioners within the justice system, understanding this nation's history with racial inequity and understanding and addressing its impact within our practice is extremely important.
The 2020 Equal Justice Conference Webinar Series will host sessions and workshops that provide you with tools to understand the issues of systemic racism, train your staff on how to address it and to challenge it in all areas of your practice.
Untangling Racial Inequity with a Systems Thinking Model:
This session will focus on utilizing a systems thinking approach to understand and untangle systemic racism. We will begin with an overview of basic systems thinking theory and introduce tools for analyzing the interconnected parts of systems, emphasizing how these parts work together to create and perpetuate inequities and disparities based on race. Participants will then apply systems analysis tools to their own advocacy issues and organizational challenges to deepen their understanding of the systems of inequity at play in their daily work.
To learn more about the sessions available, view the full schedule below.
Schedule