When
Monday, August 2, 2021 -
Where
The Mob Museum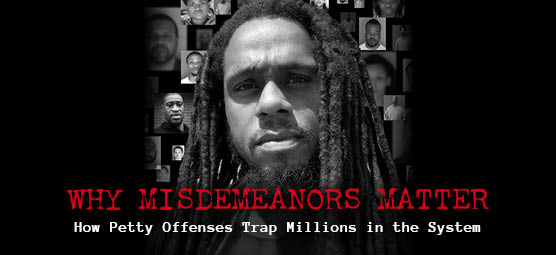 Why Misdemeanors Matter:
How Petty Offenses Trap Millions in the System
Date: August 2, 2021
Time: 6:30 to 8 p.m.
Cost: Free for attendees

The Mob Museum, the Clark County Black Caucus and the Fines and Fees Justice Center present the Las Vegas premiere of the documentary Racially Charged: America's Misdemeanor Problem, followed by a panel discussion. The inspiration for the documentary, Alexandra Natapoff, author of Punishment Without Crime: How Our Massive Misdemeanor System Traps the Innocent and Makes America More Unequal, will participate virtually in the program.
This program will take place in the Museum's Historic Courtroom.
Panelists
EVE HANAN, CO-DIRECTOR, MISDEMEANOR CLINIC, UNLV BOYD SCHOOL OF LAW
Eve Hanan teaches Criminal Procedure and Criminal Law and co-directs the Misdemeanor Clinic. She previously taught at the University of Baltimore School of Law in the Juvenile Justice Project and the Mediation Clinic for Families.
Professor Hanan has substantial litigation experience at the trial and appellate level. A long-time public defender, Hanan practiced as an appellate attorney for the D.C. Public Defender Service and as a trial attorney for the Committee for Public Counsel Service in Boston. Before joining the Boyd faculty, she worked to develop state-wide litigation strategies for the Maryland Office of the Public Defender.
Hanan received her J.D. from the University of Michigan Law School where she was the recipient of the Henry M. Bates Memorial Scholarship Award. Her scholarly interests focus on the application of social science insights to dispositional and sentencing decisions in criminal cases. She has both written and worked in the field of restorative justice. She has published on restorative justice, implicit bias in sentencing decisions, and on the quality of public defender services. As part of her master's level studies in Creative Arts in Therapy, she conducted the first qualitative research study of the use of dance/movement therapy with transgender adults.
JUDGE BELINDA HARRIS, JUSTICE OF THE PEACE, DEPARTMENT 3, NORTH LAS VEGAS
Judge Belinda T. Harris was elected to serve as Justice of the Peace in 2020 for North Las Vegas Justice Court Department 3. She is the first Black judge elected to serve the North Las Vegas community. Judge Harris was born and raised in North Las Vegas. She attended Howard University for her undergraduate studies, followed by her attendance at American University Washington College of Law where she received her legal education. She is licensed to practice law in both Nevada and Pennsylvania. Upon graduation, Judge Harris returned home to Nevada and worked for the Clark County School District where she ensured children with disabilities received the services and education to which they were entitled. She began her public defense work as an Assistant Defender at the Defender Association of Philadelphia where she served hundreds of clients and chaired over fifty trials. Despite her success in Philadelphia, Belinda's heart belonged in North Las Vegas. She returned to North Las Vegas and began her career at the Clark County Public Defender's office where she served as a Chief Deputy Public Defender, defending the constitution and protecting the rights of individuals, for nine years.
LEISA MOSELEY, NEVADA STATE DIRECTOR, FINES AND FEES JUSTICE CENTER
Leisa Moseley is an activist, strategist and senior political consultant with over ten years of experience working on local, state and national campaigns. Her activism work focuses on the racial, social, and economic justice issues affecting Black and other minority communities, with a specific interest around issues impacting women and children. Educated in Criminal Justice and Psychology, Moseley is a frequent speaker at conferences and panels discussing the social and emotional effects of injustice on communities. Moseley is a proud mother of four and an award-winning fitness and figure competitor.
YVETTE WILLIAMS, CHAIR/FOUNDER, CLARK COUNTY BLACK CAUCUS
Named one of Las Vegas Magazine's Top 100 Women of the Year in 2019, Yvette Williams, Chairs and founded the Clark County Black Caucus and is a community organizer, activist, and an entrepreneur. She is a member of the NV Dept. of Education Academic Standards Council and Multicultural Education State Advisory Taskforce, and is a Board member of the Nevada African American Administrators and Superintendents Association. She serves as Chair of the Spring Valley Township Advisory Board, where she was recently honored by the Board of Clark County Commissioners during the 2021 Women's History Month for her many contributions to Clark County and volunteer service.
Ms. Williams serves on the CCSD Bond Oversight Committee and on various education committees and volunteers her time managing/directing the Black Student Union Network in partnership with CCSD and CCBC, a labor of love for youth empowerment. She regularly appears in media, and as a conference guest speaker providing her perspectives on racial justice, criminal justice reforms, education equity, and social justice issues locally and nationally, including outlets such as NPR, CNN, MSNBC, CBS, New York Times, Washington Post, The Hill, and The Real News.
Ms. Williams is a Lifetime Achievement Award recipient of the President's Volunteer Service Award from President Obama, The National Black Justice Coalition – We Care Award, the Human Rights Campaign – Equality in the Community Award, NAACP—Legacy Builder Award and other local and congressional honors and recognitions for her community service and commitment to improving the lives of Nevadans.