Frank Rudy Cooper
William S. Boyd Professor of Law
Director, Program on Race, Gender & Policing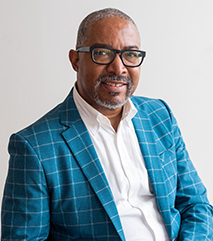 Areas of expertise:
Civil Rights, Criminal Law, Criminal Procedure, Critical Race Theory, Diversity and Inclusion, Feminist Theory, Gender and the Law, Law and Popular Culture, Masculinities Theory and Law, Race and Criminal Justice, Race and Law
Bio:
Professor Frank Rudy Cooper is William S. Boyd Professor of Law and Director of the Program on Race, Gender, and Policing. He graduated from Amherst College and Duke University Law School, where he was on the Duke Journal of Gender, Law & Policy and the Moot Court Board and served as a Research Assistant to Professor Jerome McCristal Culp. He clerked for the Honorable Solomon Oliver, Jr. (N.D. Ohio) and practiced in Boston.
Professor Cooper is a highly rated teacher of Criminal Procedure: Investigation, Criminal Procedure Theories, Civil Rights, Criminal Law, and Identities, Culture & Law. He was awarded three Derek Bok Center teaching awards while a teaching assistant to Professors Cornel West, Juliet Schor, and Laurel Thatcher Ulrich at Harvard University. He has also taught at Villanova University School of Law, Boston College Law School, and Suffolk University Law School. He has studied pedagogy extensively through Course Design Institutes.
Professor Cooper is also a productive scholar known for work in Criminal Procedure, Masculinities Studies, and Critical Race Theory, including co-editing the book, MASCULINITIES AND THE LAW: A MULTIDIMENSIONAL APPROACH (NYU Press 2012) (with Ann C. McGinley). His dozens of other publications have appeared in, inter alia, the Boston University Law Review, the University of California, Davis Law Review, the University of Illinois Law Review, and the Arizona State Law Journal.
Professor Cooper's service to his law schools has included chairing Teaching, Tenure, and Scholarship committees. He has been a leader nationally as well, having co-founded the SALT-LatCrit Junior Faculty Development Workshop and the John Mercer Langston Writing Workshop.
In the News