Director of Externships
Assistant Professor in Residence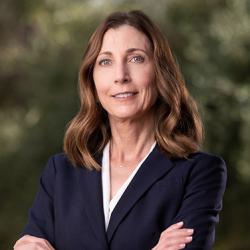 Education:
B.A. in Psychology, University of Nevada, Las Vegas
J.D., University of Nevada, Las Vegas
Director of Externships
Assistant Professor in Residence
Bio:
Dawn Nielsen is the Director of Externships and an Assistant Professor-in-Residence at the Boyd School of Law. She was the Special Assistant to UNLV President Marta Meana for nearly two years before returning to the law school in 2020. Her previous roles at Boyd include Judicial Clerkship Advisor in the Career Development Office and Moot Court & Mock Trial Faculty Advisor. She also served as Judicial Law Clerk for the Honorable Kathleen Delaney in the Eighth Judicial District Court. Professor Nielsen earned her Juris Doctor at the UNLV Boyd School of Law and is a licensed attorney with the State Bar of Nevada.
While studying at Boyd, Professor Nielsen was a student attorney with the Thomas & Mack Juvenile Justice Clinic, representing youth in Family Court for two semesters. As a Research Fellow to Professor Sara Gordon, she reviewed and recommended changes to statutes governing the treatment of Alaskans with mental illness and presented the final report to the Governor's Criminal Justice Working Group with the team in Anchorage. She also was a Research Assistant and Teaching Assistant to Professor Terrill Pollman in Legal Writing.
Professor Nielsen's work connecting students to experiential learning opportunities is personal, having herself completed two externships and one internship as a Boyd student. These experiences provided valuable skills, exposing her to the actual practice of law in a governmental agency, public interest organization, and the courtroom. She also developed strong professional relationships with field supervisors who continue to mentor her today.
A native Nevadan, Professor Nielsen blends her passions for the outdoors and community service, volunteering for three years on the City of Henderson's Bicycle Advisory Committee, as a coach with Girls on the Run, and with the Outside Las Vegas Foundation and the Vegas Valley Rim Trail. Professor Nielsen also mentored youth through the Boy Scouts of America, Clark County School District, and Junior Achievement for 15 years.
In her free time, Professor Nielsen enjoys cycling, trail running, ultrarunning challenges, exploring the desert, and standing on the top of mountains while documenting her adventures through photography and journaling. Professor Nielsen is a two time UNLV alumna and also holds a bachelor degree in psychology.