Eve Hanan
Associate Professor of Law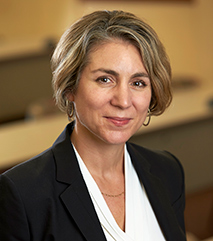 Areas of expertise:
Criminal Law, Criminal Procedure, Trial and Appellate Practice, Clinical Legal Education and Teaching, Restorative Justice
Bio:
Eve Hanan teaches Criminal Procedure and Criminal Law, and will direct the new Juvenile Justice Clinic. She previously taught at the University of Baltimore School of Law in the Juvenile Justice Project and the Mediation Clinic for Families.
Professor Hanan has substantial litigation experience at the trial and appellate level. A long-time public defender, Hanan practiced as an appellate attorney for the D.C. Public Defender Service and as a trial attorney for the Committee for Public Counsel Service in Boston. Before joining the Boyd faculty, she worked to develop state-wide litigation strategies for the Maryland Office of the Public Defender.
Hanan received her J.D. from the University of Michigan Law School where she was the recipient of the Henry M. Bates Memorial Scholarship Award. Her scholarly interests focus on the application of social science insights to dispositional and sentencing decisions in criminal cases. She has both written and worked in the field of restorative justice. As part of her master's level studies in Creative Arts in Therapy, she conducted the first qualitative research study of the use of dance/movement therapy with transgender adults.
In the News