Governor Brian Sandoval
Distinguished Fellow in Law and Leadership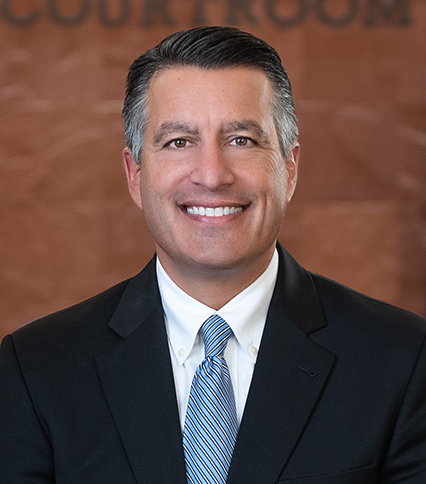 Bio:
Governor Sandoval served from 2011-2019 as Nevada's first Hispanic Governor and as one of the nation's most popular state leaders, and transformed Nevada with key accomplishments in economic development, water policy, state parks and recreation, public lands, veterans' issues, health care expansion, workforce development, renewable energy policy, innovative gaming policy and modernizing Nevada's public education system. As Governor, Sandoval also established the new medical school at UNLV as well as establishing innovative workforce development programs between new industries and higher education.
Sandoval served as the Chairman of the National Governors Association, Western Governors Association, National Council of State Governments and the Education Commission of the States. He also focused on international outreach, hosting multiple international delegations in Nevada, and led 18 trade missions to 16 countries on six continents.
Earlier in his career, Sandoval was elected to the Nevada Assembly in 1994, serving on the Judiciary, Taxation, Labor and Management and Natural Resource Committees. He was appointed to the Nevada Gaming Commission in 1998 and became the Commission's youngest Chairman in state history the following year. Sandoval was thereafter elected Nevada Attorney General in 2002. Sandoval was nominated in 2005 by then-President George W. Bush to serve as a federal judge on the U.S. District Court for the District of Nevada, and confirmed unanimously by the U.S. Senate, a position he held until resigning to run for Governor in 2009.
He received a Bachelor of Arts degree in English and a minor in Economics from the University of Nevada, Reno in 1986 and a Juris Doctorate degree from The Ohio State University Moritz College of Law in 1989.
Sandoval has received numerous recognitions and awards throughout his career. He is married to Lauralyn McCarthy Sandoval, a business executive and community leader.