Distinguished Fellow in Law and Leadership
President, University of Nevada, Reno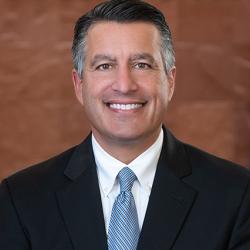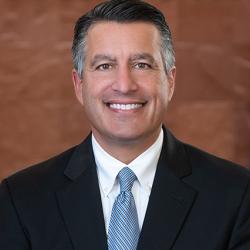 Education:
B.A., University of Nevada. Reno
J.D., Ohio State University
Distinguished Fellow in Law and Leadership
President, University of Nevada, Reno
Bio :
Brian Sandoval was appointed the 17th president of the University of Nevada, Reno, on September 17, 2020. Sandoval served two terms as the 29th Governor of the State of Nevada from 2011-2019, during which time his leadership helped lift Nevada from a historic recession to a time of record-setting prosperity and growth. Term-limited following eight years as one of the most popular governors in Nevada history, Sandoval then became the president of global gaming development for MGM Resorts International, a member of the board of directors for Coeur Mining, and a senior fellow at the University of Southern California's Annenberg Center on Communication Leadership and Policy. He was the Distinguished Fellow in Law and Leadersip at the UNLV William S. Boyd School of law from 2019-2020.
Prior to becoming governor, Sandoval was appointed United States District Judge for the District of Nevada, becoming the state's first Hispanic federal judge. He also was elected Nevada's Attorney General, was a member and at one point was the youngest chairman in the history of the Nevada Gaming Commission, and served two terms, 1994-1998, as an assemblyman in the Nevada State Legislature.
He also served on several state boards and commissions, including the Nevada Boards of Pardons, Prisons, Transportation and Examiners, the Council for the Prevention of Domestic Violence, and was Nevada's at-large member of the Tahoe Regional Planning Agency Governing Board.
Sandoval is a 1986 graduate of the University of Nevada, Reno, with a degree in English. He earned his Juris Doctor degree from the Ohio State University Moritz School of Law in 1989.