Justice Myron Leavitt Professor of Law
Areas of Expertise:
Critical Race Theory/LatCrit Theory
Immigration Policy
Race and Law
Constitutional Law
Education K-16 Bilingual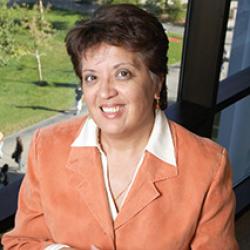 Education:
B.A. magna cum laude, St. Mary's University
M.A., St. Mary's University
J.D., University of Michigan Law School
Justice Myron Leavitt Professor of Law
Areas of Expertise:
Critical Race Theory/LatCrit Theory
Immigration Policy
Race and Law
Constitutional Law
Education K-16 Bilingual
Bio :
Making the US legal and political system one that affords equality for everyone, regardless of their race, ethnicity, religion, gender or sexual orientation, is what drives Professor Sylvia R. Lazos to excel as a law professor. A constitutional law and critical race scholar, Professor Lazos has written exhaustively on how constitutional norms can accommodate a new American reality that is increasingly multicultural, multiracial and multiethnic. These articles have appeared in respected journals such as the Indiana Law Journal, Maryland Law Review, Ohio State Law Journal, Oregon Law Review, and Tulane Law Review.
Born in Caracas, Venezuela, where her father served as a missionary, Professor Lazos attended St. Mary's University, in San Antonio, Texas, graduating magna cum laude with B.A. and M.A. degrees in Economics. She worked for the U.S. Bureau of Labor Statistics in Washington D.C. as an economist before attending law school. At the University of Michigan Law School she served as editor of the Michigan Law Review and received various other honors. From 1986 to 1992, she practiced commercial and real estate at the law firm of McConnell Valdes in San Juan, Puerto Rico, as an associate and then partner.
Professor Lazos began her teaching career at Florida State University College of Law in 1992. At Florida State, she studied voter initiatives and legislative attempts to reform constitutional property rights, and served on the states' advisory committee on property rights. She also developed a comparative law course on Caribbean Legal Systems with faculty from the University of the West Indies.
From 1999 to 2002, Professor Lazos served on the law faculty of the University of Missouri where she taught Constitutional Law, Business Organizations, Legislation, and a seminar on diversity and the law. Her research and service focused on Latina/o immigration. Seeking to facilitate a better understanding of the contributions of Latina/o immigrants, Professor Lazos and faculty from social sciences and University extension organized the Cambio de Colores conference series. This effort has been influential in helping community and state leaders understand how to best facilitate economic, social and political incorporation of Latina/os, and led to the creation of the Cambio Center at the University of Missouri. Her monograph on Latina/o immigration, Cambio de Colores (Change of Colors): Legal and Policy Challenges, available on the Web, has thousands of copies in print. For her work on immigration in Missouri, she received citations from the University as well as the state.
Professor Lazos's international background has meant that her interests extend overseas. As Senior Fellow of the Center for the Study of Dispute Resolution at the University of Missouri, she collaborated with faculty from the University of the Western Cape, South Africa in conducting constitutional law and teaching seminars. She also worked with faculty from the University of Galway, Ireland in joint interdisciplinary research focusing on how the design of formal and informal legal dispute resolution systems might ameliorate long standing inter ethnic, religious and racial group identity conflicts. She was also awarded a Fulbright to Venezuela.
Professor Lazos's current research interests focus on the importance of the judiciary being diverse, the impact of rapid immigration growth on intergroup relations, and how to fashion constitutional interpretive norms to promote better cross-racial understanding. She is currently part of a cross-disciplinary faculty effort at the University of Nevada, Las Vegas to establish a Center for the Research of Race and Social Justice, which would engage in groundbreaking research efforts across-disciplines on wide ranging subjects related to race and ethnicity class and social justice. The aim of the center is to not only promote research that would be relevant to state of Nevada policy makers, but that would also assist local civic groups to better serve their constituencies.
Professor Lazos is a frequent op-ed contributor, and her expertise is sought by print and broadcast media on a wide range of subjects, including higher education, immigration, race relations, government, voting and initiatives. Since 2004, Professor Lazos has been a member of the Las Vegas Latin Chamber of Commerce Education Committee, and is the co-founder of Alliance of Latina/os & Chicana/os in Higher Education. She was also the co-chair of the Diversity and Inclusion Task Force for UNLV, appointed by President Carol Harter, in 2006.
At the William S. Boyd School of Law, Professor Lazos teaches Constitutional Law, Legislation, and a seminar on race, gender, and sexuality. She genuinely likes her students and hopes that she can contribute to their development as lawyers who can assist all of their clients, no matter their background or their legal problem.