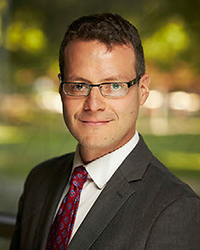 Max Gakh, JD, MPH, is an Assistant Professor at the UNLV School of Community Health Sciences and the Associate Director of the UNLV Health Law Program. His research centers on the intersection of law, policy, and public health and investigates how law and policy can improve (or hinder) the health of communities. It includes exploring the government's legal authority to promote health, laws relevant to public health emergencies, and laws and policies outside the health sector that impact health. He is especially interested in interdisciplinary research and education.
Recently, Max co-authored a peer-reviewed article about physician mandatory reporting laws. He also presented at the American Public Health Association (APHA) 2017 Annual Meeting, where he received the Early Career Award for Excellence in Public Health Law from the APHA Law Section. Additionally, he co-authored articles examining the connections between public health legal preparedness and health in all policies as well as the use of health impact assessments to inform education policy.
Prior to joining the faculty, Max worked with public health professionals to address real-world health issues through law and policy and also worked as a non-partisan legislative attorney. He received his bachelor's degree from Washington University in St. Louis, JD from The Ohio State University Moritz College of Law, and MPH from the Johns Hopkins University Bloomberg School of Public Health. He is an admitted member of the State of Ohio Bar, Certified in Pubic Health, and has held leadership roles in the Law Section of APHA.