Wednesday, October 23, 2019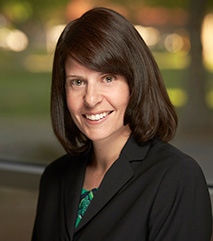 Professor Stacey Tovino had a productive summer. In June and July, she completed several grant-related articles that are forthcoming in the Journal of Law, Medicine & Ethics and the Hastings Center Report. These articles assess a variety of privacy and security issues raised by mobile application-mediated health research in particular and health-related data analytics in general. These articles also address developments in state privacy, security, and breach notification law. In August, Professor Tovino wrote a new article assessing compliance with the HIPAA Privacy, Security, and Breach Notification Rules and completed research for a second article addressing HIPAA's criminal enforcement provisions.
Professor Tovino's busy academic year is underway. In addition to teaching Torts, Health Law I, and HIPAA Privacy, Professor Tovino spoke at Loyola University Chicago School of Law in September, and Indiana University Robert H. McKinney School of Law in October, and will speak at Mississippi College School of Law in November, Penn State Law and Seton Hall University School of Law in February, Oschner Medical Center in March, and Stetson University College of Law in April. At the AALS Annual Meeting in January, Professor Tovino will chair the Section on Law and the Humanities panel and will speak on the Section on Law and Mental Disability panel. In October and April, Professor Tovino will attend Planning Committee meetings for the American Society for Bioethics and Humanities in Pittsburgh and Chicago, respectively. Throughout the year, Professor Tovino will continue her work with Lena Rieke, Research Librarian and Assistant Professor, Wiener-Rogers Law Library, UNLV Boyd School of Law, on a project that examines and proposes revisions to state genetic nondiscrimination laws. One piece of this project will be published in the Annual Review of Genomics and Human Genetics.