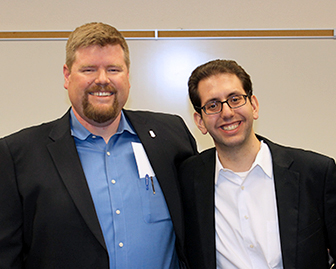 2013 in-house client counseling competition winners Stephen Davis (left) and Gil Kahn
UNLV William S. Boyd School of Law students Stephen Davis and Gil Kahn will represent the school at the American Bar Association (ABA) Law Student Division's regional Client Counseling Competition in spring 2015.
Davis and Kahn received first place during the 15th annual in-house client counseling competition that was held at the Boyd School of Law on Nov. 1 and 2. The competition was hosted by the law school's Saltman Center for Conflict Resolution and the Clark County Bar Association.
The pair competed against fellow Boyd students, including second place winners Cameron Busby and Brian Terrell as well as third place winners Dawn Nielsen and Brandi Loffer.
Busby and Terrell's success will allow them the opportunity to represent Boyd at the ABA regional competition in February 2014 in Santa Clara, Calif. The competition's topic will be the First Amendment.
"The competition is a terrific opportunity for our students," said Boyd School of Law Dean Daniel Hamilton, "and it would not be possible without the work of Boyd's dedicated and generous alumni and our student leaders."
The in-house competition required student teams to conduct simulated initial lawyer-client interviews while being critiqued by a panel of judges. Boyd alumni, faculty and staff as well as members of the local legal community played clients and judges.
"While I did not watch all of every session, I think I watched at least part of every team's interviews. I was extremely impressed by the quality of the interviews and very proud to be a professor at Boyd," said Jean Sternlight, Director of the Saltman Center for Conflict Resolution and Michael and Sonja Saltman Professor of Law.
Earlier this year, Boyd students (now alumni) Cathy Kama and Jeanette Barrick placed third in the ABA Client Counseling Competition for Region 9, which involved students from Nevada, Arizona, California and Hawaii.