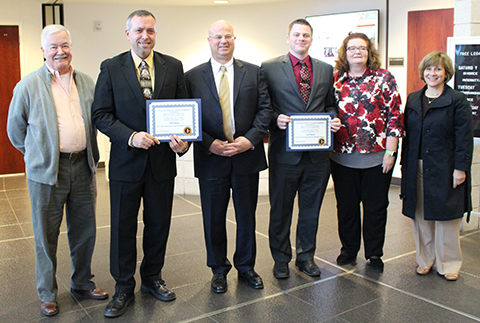 From left: Ray Patterson, former associate director of the Saltman Center for Conflict Resolution; student Nathan Lawrence; Michael Hughes, chair of the new Lawyers' Committee, Clark County Bar Association; student William Nobriga; Judge Gloria Sturman, Clark County District Court Dept. 26; and Eleissa Lavelle, adjunct professor at Boyd and mediator and arbitrator at JAMS. Not pictured: Sonja Saltman, who also judged the competition.
UNLV William S. Boyd School of Law students Nathan Lawrence and William Nobriga took first place in the 17th annual Saltman Center In-House Client Counseling Competition. They will go on to represent the Boyd School of Law at the American Bar Association's Saltman Center for Conflict Resolution, Society of Advocates, and Clark County Bar Association organized the event. The Bank of Nevada sponsored it, giving cash awards to the first-, second-, and third-place winners.
Boyd students Kristian Kaskla and Aarin Kevorkian, who won last year's In-House Client Counseling Competition, on Feb. 5 and 6 will compete in 2016 Regional Client Counseling Competition, being held at the Boyd School of Law. This is the first time the Boyd School of Law will host the competition. Kaskla and Kevorkian will compete against students from Arkansas, Idaho, Montana, Oregon, Washington, Utah and Wyoming on the topic of criminal law and procedure.
As part of the competition, students conduct an interview with a person playing the role of the client, elicit facts, advise about the relevant law, provide options for proceeding, and assist the client in making an informed decision. The goal of the Client Counseling Competition is to promote knowledge and interest among students in preventive law and encourage the development of interviewing, planning and analytical skills.