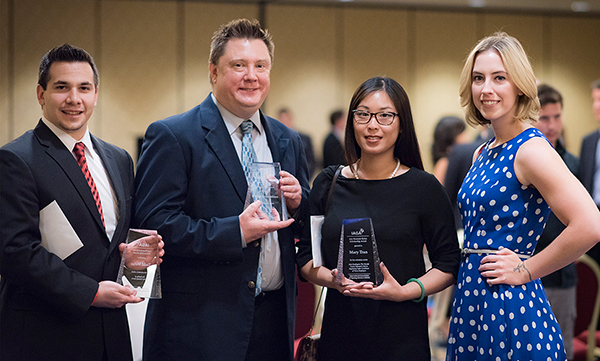 From left: Boyd students Todd Weiss, Kevin Schweitzer, Mary Tran, and Marah Hinskey
On Sept. 29, the International Association of Gaming Advisors (IAGA) announced that Boyd School of Law students Mary Tran and Todd Weiss received the 2015 Shannon Bybee Scholarship Award. The IAGA also awarded an Honorable Mention to Boyd student Kevin Schweitzer.
The annual scholarship program recognizes the best scholarly research papers written on relevant gaming topics by law students. Submissions are solicited from law students around the world and judged by a committee of IAGA members who practice gaming law.
"The Bybee Scholarship is an excellent way to encourage the next generation of gaming industry leaders to become engaged in critical gaming issues," said Jennifer Roberts, Bybee Scholarship Committee co-chair, partner at Duane Morris, and adjunct professor at Boyd. "Our 2015 winning papers are no exception: this year we received a wide range of articles covering everything from daily fantasy sports to joint employer liability issues and are very pleased with the submissions we received overall."
Tran won for her paper titled, "The Reality of (Daily) Fantasy Sports." Schweitzer received an honorable mention for his paper titled, "Edge Sorting: A Chance for Courts to Sort Out the Law for Advantage Play."
Past Shannon Bybee Scholarship Award winners from Boyd include Justin Allsop '14; Rick Benito '12; Kerry Kleiman '15; Michael Lafia '12; Miriam Meyer-Thompson '14; John Piro '10; Charles C. Rainey '07; Michael Roeseler '14; Jaime E. Serrano, Jr. '12; and Evan Simonsen '14.
The Shannon Bybee Scholarship Award was established to honor the memory of Shannon Bybee, one of IAGA's founders who had a distinguished career as a gaming attorney, Nevada regulator, industry executive, and pioneer in the field of education in casino operations and gaming law.
This year's Bybee Scholarship Award was sponsored by the State Bar of Nevada Gaming Law Section.