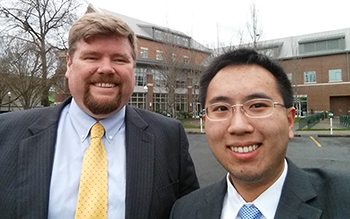 Stephen Davis (left) and Sean Young
UNLV William S. Boyd School of Law students Stephen Davis and Sean Young recently took first place in the 2015 American Bar Association (ABA) client counseling competition in region 12. The ABA Law Student Division Client Counseling Competition is a simulation of a law office consultation where students conduct an interview with a client and then explain how they would proceed.
Davis and Young competed in Eugene, Ore. Feb. 7 and 8 against law students from Alaska, Idaho, Montana, Oregon, Washington, Utah, and Wyoming. They now will advance to the national competition in Durham, N.C. March 13 and 14. The topic of this year's competition is family law.
Saltman Center for Conflict Resolution Graduate Fellow Jae Barrick '13 as well as Boyd School of Law Professors Lydia Nussbaum, Rebecca Scharf, and Jean Sternlight coached the team.
Davis is a second-year student who began law school with 15 years of experience in construction management. During his time at Boyd, he has assumed leadership roles in a variety of student organizations – he is president of Legally Speaking, the school's chapter of Toastmaster's International; vice president of the Organization of Part-time and Non-traditional Law Students; and treasurer of our student chapter of the Federal Bar Association. He is also a junior staff member on the Nevada Law Journal.
Also in his second year, Young serves as secretary of the Asian Pacific Law Students Association. He brought with him to law school experience in the business world. For more than eight years, Young and his family have owned and operated a dog grooming business in Las Vegas. Dealing with applicable state regulations of the family enterprise and developing operational policies and procedures sparked his interest in the law and prompted his decision to apply to Boyd.