Thursday, October 13, 2011
Alumni from the William S. Boyd School of Law's first graduating class haven't forgotten their roots.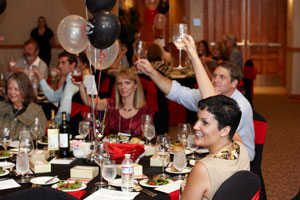 From left, Professor Terrill Pollman, Kara Hendricks '01, JP Hendricks '06, and Terina Salerno '01 raise their glasses to toast UNLV William S. Boyd School of Law's Charter Class at the Reunion Dinner held Sept. 16 at the UNLV Foundations Building.
Alumni from the school's Charter Class — the class of 2001 — celebrated the last 10 years with a class reunion Sept. 16-17. In appreciation to the school that presented them with their Juris Doctors, the alumni helped set up the Boyd School of Law Partner program, establishing a source of funding that didn't exist for current and future Boyd students and faculty. Law School Partners contribute an annual gift of $1,000 or more.
"We worked with the charter class to establish the Partner Program and set the bar for future alumni fund-raising efforts," said Matt Muldoon, Boyd School of Law's director of development.
Alumni gifts helped to create a new sustainable way for graduates to give to the school. Graduates chose to contribute either specifically to retention and recruitment — mainly for funding scholarships — or to the Dean's Discretionary Fund, which is reinvested in student programs and faculty.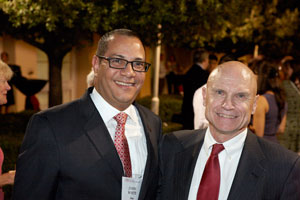 UNLV William S. Boyd School of Law Dean John Valery White, left, stands with founding Dean Richard J. Morgan at the Welcome Back Reception and Dinner held Sept. 16 at the law school.
"Alumni support has always been key to any law school's success," said Boyd School of Law Dean John Valery White. "The form of that support has changed over the years, but one constant is alumni giving. The generosity of our graduates, as reflected in this class's significant commitment, is a crucial step in Boyd's success into the future. It is a principal way that alumni help ensure the richness of the curriculum and help build an ever stronger and interesting student body. With the support of the founding class and all of our alumni, we can be assured of a bright future for Boyd and Nevada."
Becky Pintar, co-chair for the Charter Class Reunion and the largest donor to the fund, said she donated because she is appreciative of the first-rate education she received from Boyd School of Law.
Charter Class members Rosa Solis-Rainey, Marjorie Hauf and Kara Hendricks share a drink as they reminisce about the class of 2001 at the Charter Class Reunion Dinner.
"Without Boyd, a lot of alumni, especially the Charter Class, would probably not have the opportunity to attend law school at all, as many of us could not have left the state for school" Pintar said. "Therefore, once we are out and being successful in the legal world, we owe it to Boyd to give a back in gratitude for the opportunity it gave us."
Pintar said she donated to the Dean's Discretionary Fund because she felt that it would be the best way for her contribution to be used optimally for the school. She said she feels the donations will help strengthen alumni's commitment to the advancement of Boyd School of Law.
Dean John Valery White, center, is flanked by Justin L. Carley '06, left, and Daron Dorsey '01, who are both attorneys at Snell & Wilmer LLP.
"Through Alumni donations, our goal should be to have Boyd distinguish itself in the legal world, continue to earn respect nationally as well as in the local community, and make an impact on the local, national and even global level in the realm of legal education," she said.
Currently, the donations have reached more than $120,000. When donors complete their pledges, they will join the permanent wall of honor on the first floor of the law school at the Patron Level, for donations of $10,000 or more cumulatively.
"The goal is to have as many alumni on the wall of honor as possible," Muldoon said.
Alumni who are interested in making a gift in honor of their reunion can contact Matt Muldoon at (702) 895-1398.