Edwin Black Seeks to Prove IBM's Involvement in Holocaust Nov. 13 at Boyd School of Law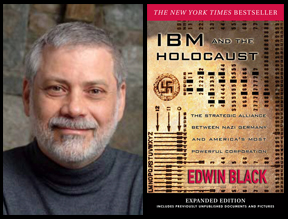 Edwin Black is used to audiences leaving his presentations in shock and sometimes even in tears.
"They're stunned, they're torn apart, they're tearful," said the investigative author, who is scheduled to speak at the UNLV Boyd School of Law on Nov. 13.
Black will present findings from his book, "IBM and the Holocaust," that tie together one of America's largest corporations and the mass murder of six million European Jews during World War II.
"The book chronicles how IBM directly from its New York offices and its subsidiaries co-planned and co-organized all phases of the Holocaust. It was done through the resources of IBM's technology," he said.
Black asserts that IBM one by one custom-designed complex solutions that Adolf Hitler and his supporters could use in everything from efficiently identifying Jews in censuses and registrations to running railroads and organizing concentration camp slave labor.
"The Holocaust that we know would have always been, even without IBM; but the mass numbers that we saw were IBM's accomplishment," Black said.
"IBM and the Holocaust," released in 2001, quickly became a New York Times bestseller and reached international acclaim. Today, Brad Pitt is rumored to be working on a movie based on the book. The 2012 expanded edition of the book offers 32 pages of new photographic and document evidence.
"The new edition only deepens the documentation. So it becomes all the more impossible for IBM to deny its involvement," said Black. "IBM believes silence is golden."
The Nov. 13 event, which will take place inside the Thomas & Mack Moot Court, is co-sponsored by the UNLV College of Liberal Arts, the UNLV History Department, Phi Alpha Theta Psi Sigma, the UNLV Department of Communication Studies, American Association of Jewish Lawyers and Jurists, Scholars for Peace in the Middle East, State of California Center for the Study of the Holocaust, Jewish Virtual Library, The Auto Channel, History Network News, and Spero Forum with the participation of Temple Beth Sholom. The lecture is spearheaded by David Tanenhaus, James E. Rogers Professor of History and Law.
"What distinguishes Edwin Black is he asks questions that others don't. His book provides a different perspective on the Holocaust," Professor Tanenhaus said.
Black's visit to UNLV will also include meetings with faculty members, lunch with students, a book signing, and question-and-answer session after the lecture.
"It's a rare opportunity to hear from someone of his fame in such a small, intimate setting. That's what makes this event so striking," said Professor Tanenhaus. "He's a dynamic speaker who's capable of connecting with anyone in a crowd. He presents his findings to the general public, not just academics."
Black says the event is a tribute to his past and a contribution to the future.
"My parents are both Holocaust survivors. I always thought it was my mission to not just remember the Holocaust, but explain it. So many people have explained the dimensions – how many people were killed, who the war criminals were. I decided to go beyond that," he said. "When I make my presentations, it's not just a commemoration and a chronicling. It's a call that we must be vigilant for the next technology war crime that's lurking around the corner."
To learn more about this event, visit: http://law.unlv.edu/node/14232.&...