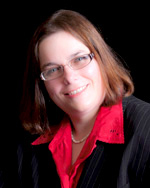 Heather Procter '03 has been named the 2013 William S. Boyd School of Law Alumna of the Year, the highest and most prestigious alumni award given by the school.
"I am very honored to receive this award," said Procter. "I have truly enjoyed serving the Boyd community and continuing my involvement with this wonderful school."
Procter graduated cum laude from the Boyd School of Law in 2003. Since, she has practiced law in several capacities. Recently, she has worked as the Deputy Attorney General in both the Bureau of Public Affairs' Public Safety Division and the Bureau of Litigation's Appellate Division at the Office of the Attorney General in Carson City. Since 2011, she has served as the Senior Deputy Attorney General in the Bureau of Litigation's Appellate Division. During her tenure in the Appellate Division, she has researched and responded to numerous state and federal habeas corpus petitions filed by Nevada inmates, presented arguments before federal courts, and prosecuted defendants accused of committing crimes against the state of Nevada.
Procter is an active member in a number of organizations, including the William S. Boyd School of Law Alumni Association Board, Nevada Bar Association, Northern Nevada Women Lawyers Association, California Bar Association, and First Judicial District Court Bar Association.
While attending Boyd, Procter participated in the Phi Alpha Delta Law Fraternity, American Bar Association, Faculty Selection Committee, Graduation Committee, Federalist Society, Phi Kappa Phi Honor Society, and Organization of Women Lawyers Society. She was also the recipient of a number of awards, including the 2003 Dean's Award and the 2002 CALI Award for administrative law.
As a student, Procter taught free legal education classes regarding landlord-tenant law. Additionally, she contributed to the Nevada Law Journal as an Executive Board Member and Lead Special Projects Editor.
In addition to a Juris Doctor degree, Procter holds a Master of Business Administration degree and a Bachelor of Science degree in Business Administration, both from the University of Nevada, Reno.
The Alumna of the Year Award was presented at the annual UNLV Alumni Association Homecoming Dinner on Nov. 1 in the Grand Hall at the Richard Tam Alumni Center.