Jeremy Aguero '04 has been named the 2011 William S. Boyd School of Law Alumnus of the Year, the highest and most prestigious alumni award given by the school, in recognition of his impact on UNLV through significant contributions made in his professional field and through his personal achievements.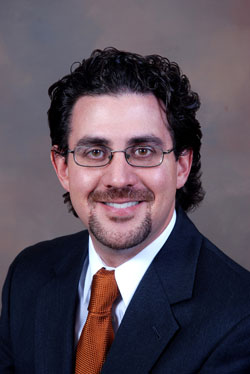 Aguero is a principal analyst with Applied Analysis, a leading economic, fiscal, and policy research firm based in Las Vegas. He has performed numerous economic and fiscal impact assessments for projects of local, regional, and national significance.
In addition to his professional activities, Aguero is involved actively in the community. He lends his time and talents to a number of local organizations as a board member of Nevada Child Seekers, Opportunity Village, Nevada Council for Problem Gaming and Nevada State Bank. He also coaches youth baseball, basketball and soccer. Passionate about education, he is an adjunct professor at the University of Nevada, Las Vegas, Willliam F. Harrah College of Hotel Administration where he teaches hotel law to undergraduate students.
A fifth-generation Nevadan, Aguero graduated with honors from the University of Nevada, Las Vegas, where he undertook a special course of study under the direction of the late Shannon Bybee and earned the Wm. M. Weinberger Outstanding Graduate Award. He earned a juris doctor degree from the William S. Boyd School of Law in 2004, graduating cum laude and earning the Dean's Graduation Award.
Aguero was featured as one of the law school's most successful and influential alumni at a Boyd Alumni Association business lunch. He recently served as a panelist for a continuing legal education program hosted by the Boyd School of Law titled "The Future of the Economy and Tax Structure in Nevada."
The Alumnus of the Year award will be presented at the annual UNLV Alumni Association Homecoming Dinner on Nov. 4, 2011.