Michael Higdon Selected as 2009 Boyd Alumnus of the Year
Michael Higdon '01, Associate Professor at the University of Tennessee, Knoxville, College of Law, has been named the 2009 William S. Boyd School of Law Alumnus of the Year, the highest and most prestigious alumni award given by the school.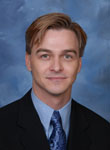 After joining the Boyd faculty in 2004, Higdon was recognized by the student body as the 2006 law faculty member of the year. He also coached several outstanding student moot court teams and served as adviser to the Society of Advocates, the Boyd School of Law's moot court program.
At present a member of the Legal Writing Institute's Board of Directors, Higdon has authored a number of scholarly articles published in such journals as the University of California Davis Law Review and the Wake Forest Law Review. He also has given presentations at a number of universities, most recently at Arizona State University School of Law.
A Summa Cum Laude graduate of the school's charter class, the first student Editor-in-Chief of the Nevada Law Journal, and recipient of the James E. Rogers Award for Outstanding Academic Achievement, Higdon is the first alum to be hired as a Boyd faculty member. He served as Lawyering Process Professor from July 2004 to July 2009. He also was invited to serve as a visiting professor at Seattle University School of Law.
Upon graduation, Higdon was selected from intense competition to be a judicial law clerk for Judge Procter Hug, Jr. of the United States Court of Appeals for the Ninth Circuit before practicing commercial litigation and employment law for two years with the Las Vegas firm of Schreck Brignone (now part of Brownstein Hyatt Farber Schreck).
The award will be presented at a special VIP reception prior to the annual UNLV Alumni Association Homecoming Dinner, October 16, in the Richard Tam Alumni Center.
Higdon holds a B.A. in English from Erskine College, Due West, SC, and an M.A. in Communication Studies from UNLV.