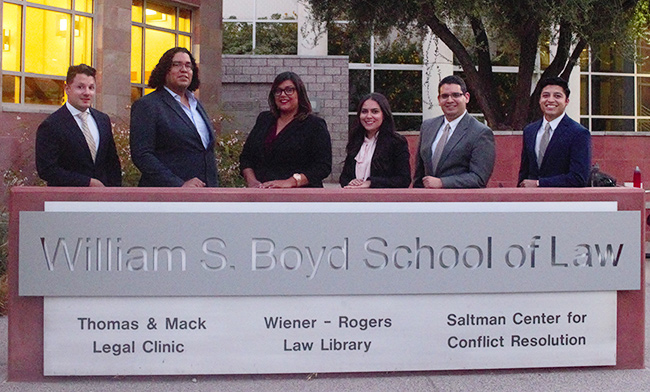 LAS VEGAS – La Voz, the Hispanic Law Student Association at the UNLV William S. Boyd School of Law, has been recognized by the Hispanic National Bar Association (HNBA) as its 2017 "Law Student Organization of the Year."
Every year, the HNBA honors talented judges, lawyers, and organizations who are making a difference throughout the legal profession and their communities. Other recipient categories, include: Latina Judge of the Year, Latino Judge of the Year, Latina Attorney of the Year, Latino Attorney of the Year, and Pro Bono Attorney of the Year.
La Voz's mission is to empower and promote the success of law students with backgrounds that are not traditionally represented in the legal profession. The student-run organization is known for its award-winning mentorship, Huellas ("Footprints"), which connects a legal professional, a Boyd law student, an undergraduate student, and a high school student for mentoring and support. Through Huellas and other programs, La Voz serves as a unifying and informative organization that both connects with the Latin/Hispanic community and functions as an educational and cultural conduit for all students, faculty, and staff.
The award will be distributed at the National Awards Reception as part of the HNBA's 42nd Annual Convention in Kansas City, Missouri on Thursday, September 7, 2017.