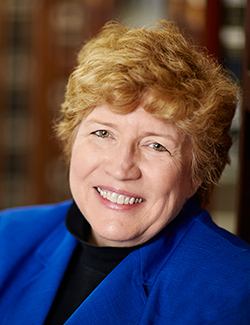 LAS VEGAS – The UNLV William S. Boyd School of Law announced today that Mary Beth Beazley has joined the UNLV Law faculty as Professor of Law in its nationally-ranked legal writing program. Regarded as one of the nation's foremost scholars in writing and analysis, Beazley has taught for nearly 35 years and has held several leadership positions in legal education. She has also received numerous awards for her teaching, scholarship, and service.
A graduate of Notre Dame Law School, Mary Beth Beazley is the author of the widely-used textbook "A Practical Guide to Appellate Advocacy," now in its fourth edition. She has published numerous articles, including "Ballot Design as Fail-Safe: An Ounce of Prevention is Worth a Pound of Litigation," and has also authored a chapter in the Carolina Academic Press publication "The Law and Harry Potter." Her current scholarship focuses on behavioral aspects of legal writing and legal reading, and on the impact digital platforms have on cognitive aspects of legal reading.
"Mary Beth Beazley is a wonderful addition to our law school faculty," said Daniel W. Hamilton, dean of the UNLV Boyd School of Law. "Her scholarship and her leadership have made major contributions to the field of legal writing. We are delighted to have her as part of our nationally-recognized program."
Professor Beazley comes to UNLV from The Ohio State University Moritz College of Law. Previously, she taught at Vermont Law School and at the University of Toledo College of Law. Outside of the classroom, Professor Beazley served as the president of the Legal Writing Institute from 1998-2000 and of the Association of Legal Writing Directors from 2009-2010. From 2005-2009, she was the chair of the American Bar Association's Communications Skills Committee. She has also been a member of the American Association of Law Schools Curriculum Committee. Before joining the faculty at Ohio State, Professor Beazley served for two years as an Assistant Attorney General for the State of Ohio.
"I'm extremely honored to join the highly-respected program here at UNLV Law," said Beazley. "It's fantastic to be a part of this leading faculty that has advanced professional development initiatives and discipline building within the legal writing community."
Her contributions to legal writing have been recognized with the field's top honors. In July of 2017, Professor Beazley received the Marjorie Rombauer Award from the Association of Legal Writing Directors. This award had been given only twice previously: to Mary Lawrence in 2000 and to Laurel Currie Oates in 2009. She has also received the Burton Award for Outstanding Contributions to Legal Writing Education in 2008. In 2006, Professor Beazley received the Thomas F. Blackwell Award, presented jointly by the Legal Writing Institute and the Association of Legal Writing Directors.