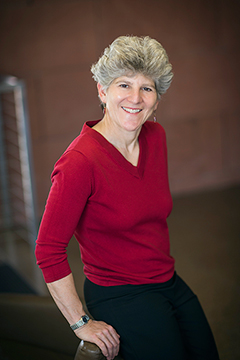 Jean Sternlight, Director of the Saltman Center for Conflict Resolution and Michael and Sonja Saltman Professor of Law at the UNLV William S. Boyd School of Law, is the recipient of the 2015 American Bar Association (ABA) Section of Dispute Resolution's Award for Outstanding Scholarly Work. The award is given to individuals who significantly contribute to the field of dispute resolution through scholarship.
Professor Sternlight is a rigorous and thoughtful scholar and colleague who has written prolifically and passionately about arbitration and its place in the justice system. She has mentored the next generation of dispute resolvers, dispute resolution scholars, and practitioners, organized special journal issues on dispute resolution topics, participated in organizing national gatherings, and taken a leadership role on the policy of dispute resolution both within the Section of Dispute Resolution and nationally. Professor Sternlight's work and efforts have contributed greatly to the field," according to an ABA announcement about the award.
A distinguished leader in the field of dispute resolution for two decades, Professor Sternlight is recognized for her scholarship, teaching, and law reform activities nationally and internationally. She has co-authored leading casebooks and other texts on alternative dispute resolution, arbitration, and mediation, and most recently on the relationship between psychology and lawyering. Her most recent book, Psychology for Lawyers: Understanding the Human Factors in Negotiation, Litigation and Decisionmaking (with Jennifer Robbennolt) was published by the American Bar Association in 2012. She has also published numerous articles in many journals, including the University of Pennsylvania Law Review, theStanford Law Review, Law and Contemporary Problems, and the Journal of Legal Education.
Professor Sternlight received her B.A. (Phi Beta Kappa and High Honors) from Swarthmore College and her J.D. (cum laude) from Harvard University, where she served as editor in chief of the Harvard Civil Liberties - Civil Rights Law Review. She then clerked for federal judge Marilyn Hall Patel in California and subsequently practiced plaintiff-side employment law in Philadelphia.
After teaching at Florida State University School of Law and the University of Missouri-Columbia School of Law, where she was the John D. Lawson Professor of Law and also a Senior Fellow at the Center for the Study of Dispute Resolution, she joined the Boyd School of Law faculty in 2003.