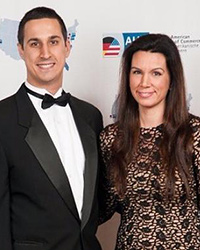 Adam, '13, is an associate with Thomas & Horstemeyer; Miriam, '14, is an associate at Baker, Donelson, Bearman, Caldwell & Berkowitz P.C.; both in Atlanta, Georgia.
We love focusing on Boyd Law couples, so tell us your story.
We married in Las Vegas in 2009. We each moved here because of job opportunities prior to meeting each other--Adam moving here from Buffalo, NY; and Miriam from Germany. Both are graduates of UNLV's MBA program--Adam graduating in 2009; Miriam in 2010. Miriam started at Boyd one year after Adam.
In 2014, our family moved to Atlanta where Adam began work at Thomas & Horstemeyer as a patent attorney, focusing on electrical, computer, and mechanical engineering inventions. Miriam specializes in corporate immigration at her firm, assisting international employers with global mobility issues and foreign entrepreneurs starting U.S. operations. Although their fields of law are very different, both practice before federal agencies and recognize the challenges that presents. As a result, the couple is very empathetic and supportive for each other's career.
Miriam is an active member of Atlanta's German business community. Miriam wanted to combine her business background with her international work experience and serve an international client base. She also enjoys opportunities to serve the immigrant community in pro bono cases.
Adam is active as a volunteer with GeorgiaFIRST Robotics and serves on the Advisory Council to the Board of Directors. He also is a mentor for Team 2974, Walton Robotics, helping with software development. Adam also competed in the US FIRST competition while a student in high school. Adam's choice of patent law was a natural fit because of his undergraduate degree in Electrical Engineering and work experience developing software in Las Vegas. While working as an engineer, Adam was an inventor on several gaming-related patents.
It was difficult to leave their friends in Las Vegas, but Atlanta provided wonderful career opportunities in their specialized work fields. Their most important achievement is daughter Victoria. With her birth, it was important to Adam and Miriam to live closer to family on the East Coast and in Europe.