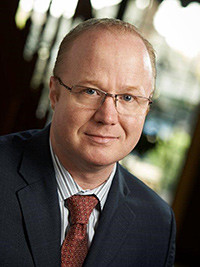 Andrew is an associate at Mitchell Stein Carey, P.C. in Phoenix. He defends clients throughout Arizona in criminal, regulatory/licensing, and administrative matters.
Why did you chose Boyd School of Law?
I had been accepted to UCLA—even booking a trip to California to visit the campus and find housing. Then, Boyd offered me a very good financial aid/scholarship package. Being a little older, avoiding law school debt was an important consideration. So, I visited Boyd. The campus and the faculty were really impressive. I learned there were significant opportunities in the Southwest. While it was a difficult decision, I have never once regretted it.
Tell us about the best advice you've ever received.
I have a habit of saying the wrong thing at the wrong time. I am very direct and often lack filters. For example, at a recruiting dinner for a summer associateship at Fennemore Craig, an attorney asked me why I went to law school. I responded I was sick of being a waiter, I wanted to make something of myself, and did not want to waste my brain in a boring dead-end job. As it turns out, the attorney's husband, who was sitting right there, was a career waiter! When I was about to start the summer associateship (I know-they still hired me after that!), I was nervous about lasting three months without putting my foot in it. Yet I did not want to walk on eggshells the whole time, either. One of my Boyd classmates told me that I should be myself—only a more professional and polished version. That advice served me well that summer as Fennemore offered me a permanent position. That same advice has served me well ever since. Thanks, Matt!
What is a little-known fact about you?
I grew up in London, England. When I was younger, I acted and sang professionally for a while. There are some pretty dodgy photos of me around—including from a risqué cabaret act in which I performed.