Friday, December 11, 2020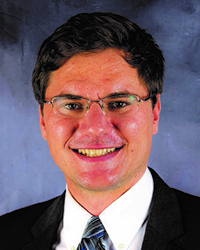 What have you been up to after taking the Bar?
After getting some much-needed rest and relaxation, I started working at Holley Driggs in Las Vegas in September as a transactional associate. I work primarily on real estate contracts, entity formation, secured transactions, and some corporate law. It has been an incredibly challenging and rewarding experience, and I am grateful to be surrounded by such a talented and supportive group of colleagues.
What do you enjoy in your off hours?
I enjoy spending time outdoors with my wife Felicia and our poodle Zai Zai. During the summer, we go hiking on Mount Charleston most weekends and have been enjoying lots of the parks around the valley now that the weather is getting cooler. Our favorite trail in the valley is the Mountains Edge Regional Park Loop.
What is your favorite thing about living in Las Vegas?
Las Vegas is unique in that it offers world class dining, entertainment, and recreation without the prohibitively expensive cost of living of many major cities. And of course the hiking trails and parks!
What is your biggest pet peeve?
Lack of responsiveness to communications. I try to respond reasonably promptly to all calls, emails, and text messages and expect the same from my friends and colleagues. While it is completely understandable for people to miss the occasional email or text message, it is difficult for me to maintain strong personal and professional relationships with people who are consistently unresponsive to communications.