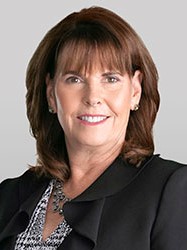 Share with us what brought you to Las Vegas and Boyd Law, and how you handle the challenges of time and people management.
I grew up in an awesome Air Force family and later became a military spouse and mom. I loved Air Force life and the chance to live in interesting places around the world. My career as a legal assistant meant I could find a job anywhere we moved. In the mid-90's, we were reassigned to Nellis AFB and relocated to Las Vegas, where I've lived ever since. I had always wanted to attend law school, but the military moves made that difficult until I settled here in Las Vegas. I soon began working as a legal assistant for the Nevada System of Higher Education ("NSHE") and continued working there while attending the Boyd School of Law night program. Boyd was the obvious choice for me, because I worked full time and had two boys at home. Despite the challenges and demands on my time and attention, I made it a point to participate in everything I could, including competing with the Moot Court Team as part of the Society of Advocates and becoming an Articles Editor on the Nevada Law Journal. I even had the honor of being designated an Outstanding Graduation for the Class of '09. I was exhausted, but I thoroughly enjoyed my law school experience. I continue to treasure the mentors, friends and acquaintances I made during that time. The 'carpe diem' approach to getting it all done worked well in law school and has continued to serve me well in my law practice.
How did you first get into the legal profession?
While working for NSHE, I worked closely with attorneys who represented Nevada's public colleges and universities. Their work looked interesting and I liked the opportunity they had to directly impact higher education for Nevadans. Much of my time with NSHE was spent supporting the Office of General Counsel at the College of Southern Nevada. Later when I became Assistant General Counsel for the College, I walked right past my old desk every morning when I came to work.
I have since transitioned my practice to one of Nevada's longest-tenured and most respected law firms - McDonald Carano, where I focus on business and employment law and offer representation for higher education institutions. I also offer my legal services to veterans at no charge—whenever I can—as a way of giving back to the military community I loved so well.
A little-known fact about me:
I am the unofficial mother of the B-52 Flying Fortress! I've been the proud Air Force daughter, wife, and mom of three generations of B-52 aviators. We are the only family with that distinction. This fact was even highlighted as a Jeopardy question several years ago.