Friday, September 10, 2021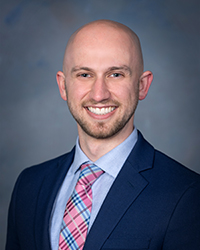 What do you enjoy in your off hours?
My favorite things to do in my off hours include watching The Office with my wife (we listen to the Office Ladies podcast to squeeze more goodness out of each episode), singing to and dancing with our adorable foster baby (7 months old), playing roller hockey with my neighbors, and reading things that have nothing to do with law school or work.
What drives you to push through difficult times?
This has been the most difficult year of my life. My wife and I became foster parents. We have had two kids in our home so far, and getting attached to the first one so quickly, just to see him leave (which, of course, was always the plan), was definitely a challenge. We also took in a newborn, which is a different kind of difficult. This second child has had several health issues, and both my wife and I worked full time while I studied for the bar. Then, my older brother (who was also one of my closest friends) died of an overdose in June. I didn't study for almost two weeks because I couldn't focus. Eventually, I set aside some time each day to allow myself to grieve, and then I would buckle down to work/study. I ended up sitting for the Nevada bar exam, and preparing for that was the most intellectually brutal thing I have ever done.
Three things have driven me to push through this difficult year: (1) enjoying time with family whenever possible, (2) understanding that responsibility helps give my life meaning, and (3) looking to God in my striving.
Recommend a favorite book.
Leadership and Self-Deception by The Arbinger Institute
Do you have a motto and what is it?
"Truth will out."