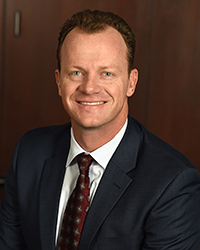 What do you enjoy in your off hours?
In my free time, I keep active playing for the Las Vegas Irish Rugby Club. Rugby has some similarities to football--but with the constant running of soccer and without the protection of pads and helmet. I started playing during college. After a few years' hiatus, I got back into the game during law school. With practice twice a week and games on Saturdays, it's been a great way for me to get away from the keyboard and work out any stress from the practice of law.
In some ways, rugby and litigation are similar. Both are inherently confrontational, yet they also require working together as a team and practicing skills off the field. That said, unlike in rugby, I've never gotten a black eye in trial.

Are there any nuggets of advice you would give a recent Boyd Law graduate?

First, jump right into pro bono work. There are cases big, small, and very small in which you can really help someone in need who simply could not do it themselves. To your clients, you will be that hero attorney you have always wanted to be. Starting pro bono work at the beginning of your career will also give you opportunities to appear in court and meet other colleagues interested in service. Whichever organization you volunteer for will be there to help you with advice and know-how every step of the way. The cases I have worked on were not ground-breaking, but I have helped real people in truly meaningful ways. You can, too.
Second, as attorneys, we are sometimes the bearer of bad news, but we should strive to never be the bearer of a bad attitude. As in law school, professional practice brings with it a degree of stress--occasionally even great stress. Don't let it get you down. Stress management skills are an essential part of the practice of law. Begin learning--and practicing--to be a source of positivity and encouragement in your workplace.
What is something you love about living in Nevada?

I love our vast desert landscape. There is something peaceful about driving out of the city and seeing the beauty of wide-open spaces we have so close to home. Red Rock Canyon and the Desert National Wildlife Refuge are two of my favorites.